QUESTIONS
P.O. Box 631 Station A
Toronto, ON, M1K 5E9
Biotechnology Student Wins National Leadership Award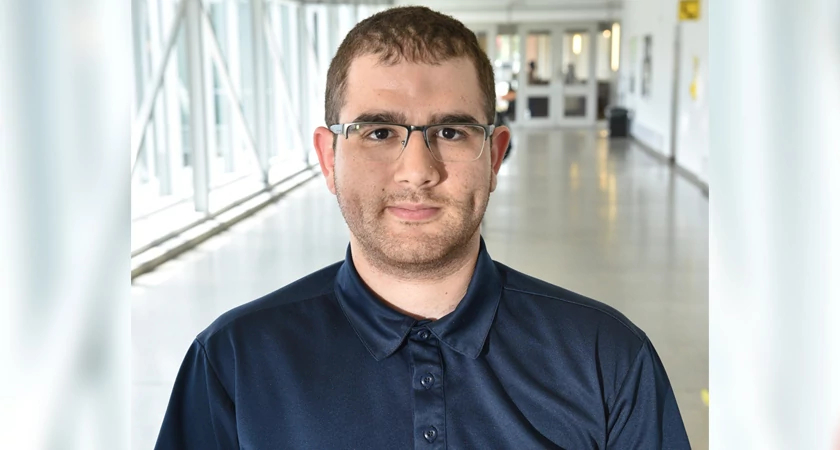 Centennial College student Matheus Andrade has been selected as the 2020 Gold Recipient of the Leadership Excellence Award for Students by Colleges and Institutes Canada (CICan), the national organization of publicly supported colleges, institutes of technology, cégeps and polytechnics.
Born in Brazil and raised by his mother, Matheus Ferreira Andrade is the first in his family to go to college. As an international student who arrived in 2017 to study biotechnology at Centennial, Matheus observed that many international learners stick together, an instinct he resisted. "Immersing myself made all the difference," he says of his introduction to campus life in a new, foreign land.
Drawing on his own experience as an international student, Matheus has spent much of his time building bridges for incoming learners, aspiring volunteers and emerging leaders both on and off-campus. With an acute understanding of what it's like to be new and seeking connections with others, he's had an outsized impact in the roles he's held and made his own.
Matheus has served as International Student Ambassador, Student Advocate, conference organizer and community volunteer at Centennial. This past year, he was Orientation Student Co-Chair and CCSAI Board Development Officer. A strong problem solver, he's dedicated himself to making everyone feel welcome, included and connected. Among his keystone accomplishments:
Lobbying for greater use of electronic resources due to high textbook costs;
Helping to revamp the Grade Appeal Clinic, which was expanded to all campuses and won two Centennial team awards in 2019;
Simplifying CCSAI student elections to mobilize more candidates; and,
Revamping the Experience Centennial orientation app, which is now a top engagement tool.
Matheus's volunteerism extends well beyond the campus. In 2017, he became a community volunteer at Evergreen, a national non-profit dedicated to making cities flourish. He worked on their annual Winter Village with a focus on customer service and logistics. When he authored his own proposal for a volunteer "expo," the re-imagined Volunteer Expo drew 18 community partners as exhibitors. With Matheus' leadership, it expanded to 25 exhibitors drawing 275 students the following fall – an unqualified success!
"He interacts with people of all interests, levels and backgrounds with consistent poise, creativity and good humour," says Christopher Boyle, his supervisor at Evergreen. "Matheus takes a creative and strategic approach to complex problems. He has a thirst for continuous learning, an openness to diverse communities and a morals-based sense of service."
A consummate learner and researcher, Matheus maintain a grade point average is 3.9 and excels in both class and lab work. In the summer of 2018, he was part of a student-led applied research project studying indoor strawberry propagation. He performed complex data calculations, occasionally stepped in as project lead, and provided overall care for the lab-grown crop. The research will be of great value to Ontario growers coping with climate change.
As a model Centennial student, Matheus Andrade represents the highest virtues of both scholarship and citizenship. Congratulations to Matheus for his outstanding achievements and for flying the Centennial College banner high on the national stage!
Please click here to see all the CICan national award winners.