QUESTIONS
P.O. Box 631 Station A
Toronto, ON, M1K 5E9
Bringing culture to the community: Francess Cowan creates the Africentric Arts camp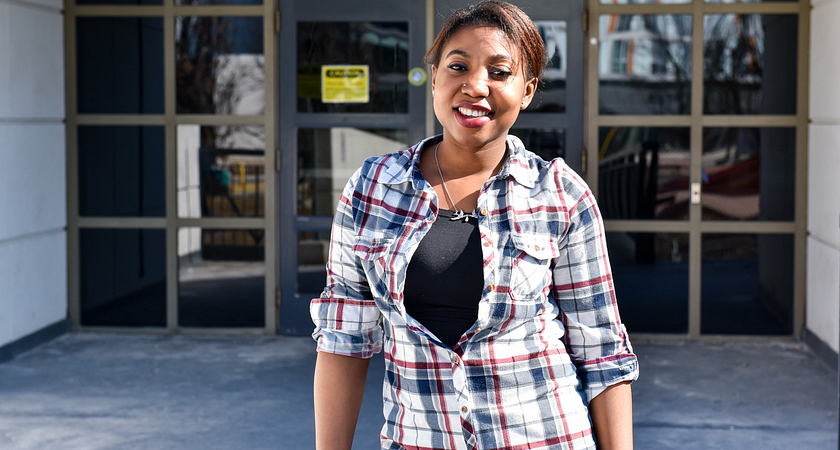 No matter the program, Centennial College encourages its students to become agents of positive social change and offers them the skills and tools to make that social change happen.
Francess Cowan is a student in our Bachelor of Public Relations Management program learning all about how to get a company's messages out to the world. Over summer break, she'd use the skills she picked up in the program to create Africentric Arts, a camp dedicated to bringing African culture to African children in the GTA, something she wished existed, but didn't. She's now expanding the camp using her skills, and support from the college, and will even be hosting a special camp day during the March break, on March 16th at Progress Campus. Here's how she used what she learned to found the camp.
Coming to Centennial
"I put two and two together," Francess says of her decision to take public relations at Centennial. "My strongest skill is writing. Anything that had to do with poetry, writing, or English."
"I was in university, not doing much in science, trying to have a bachelor's in science, but, because I wasn't interested in it, I wasn't doing very well," she continues. "I decided that I'd find a degree program that has to do with writing."
"I didn't know much about public relations other than the fact that I'd just started watching Scandal, and found out about Olivia Pope, who's a public relations person," she admits.
Filling a cultural gap
"I had a professor teaching non-profit organizations who did a career session with us, where she mentioned that in order to do PR, you have to know your own strengths," Francess says. "So, I sat back and realized that most of the things I've been good at, that I love and enjoy doing, have to do with children. They have to do not with office work, but work in the community." After that, the inspiration for the camp would come from her own child.
"The idea of the Africentric camp really came from my nine-year-old daughter," Francess says. "I went up to her, and was all excited, and told her that she was going to go on a vacation to Africa. Her response was really mind-blowing, because she said, nope. I was really heartbroken because she knows I'm African, her dad is African, we expose her to African food, culture, and community, but why she had that negative intonation to going to Africa really baffled me." It turned out that it had to do with western cultural perception of the continent.
"I asked her why she did not want to go," she continues, "and she told me about children starving, how it's poor, and it goes back to that being all the representation in the media that you see and hear, because she has no real experience whatsoever. So I said, I'm going to change that, because where I came from, while there was poverty in Africa, I was not in poverty. I actually enjoy Africa, the culture, the tradition. You cannot just have one perspective of Africa. I'm going to give you the full thing, and then you make the decision."
She searched for a camp that would give her daughter experience in African culture, but couldn't find anything, and so, in the spirit of many great inventors, she decided to make her own.
Using her Public Relations skills
Francess would reach out to members of the local Sierra Leone community, of which she was a member, and receive a warm response, including volunteers and logistical support. More importantly, she put the skills she'd been learning in the Public Relations program to use.
"All the marketing, all the design, and everything, the good thing about being in PR is that it taught me all about that," Francess says. "I know how to use various platforms to design my own stuff, and the social media was a big thing, so I know how to get audience attention. Also, my business courses came in handy, because I did project management, and that helped me stay focused in my work. If I hadn't done PR, I wouldn't have been able to pull this off. Even just learning how to form a relationship with organizations and people came in handy and reaching out to media. I got two interviews with radio stations."
"I didn't realize how much work it would take, but once I started, I couldn't stop," she says.
Keeping it going
"After the summer, I went back to school and told my professor what I'd done, and she was excited," Francess says. "She directed me to the Centre for Global Citizenship Education and Inclusion, because they'd give me a grant to help me continue."
She'd go on to work with the Centre, to have panel discussions at the school, and use the support and funding to expand the camp to further events.
"We're planning on a March Break event," she says, talking about the March 16th event, featuring fun activities for local kids to take part in. "It's going to be here at the Event Centre. It's a one-day activity for kids."
Looking to the future
Francess is almost done her schooling, graduating this April. She plans to use the skills and support she's acquired to keep Africentric Arts going.
"My vision is to have this not just as a seasonal thing, but to have a specific location, offering this service to children," Francess says. "I also want to see this continue as an afterschool program, where kids can be mentored, and get help with their homework."
No matter what shape Africentric Arts will take, Francess will anchor it with a strong vision of what its message is: "Embrace your identity, to be proud of who you are, and to be inspired to do more and be more in society."