QUESTIONS
P.O. Box 631 Station A
Toronto, ON, M1K 5E9
Bringing diversity and inclusion to the college: Yasmin Razack and Global Citizenship Education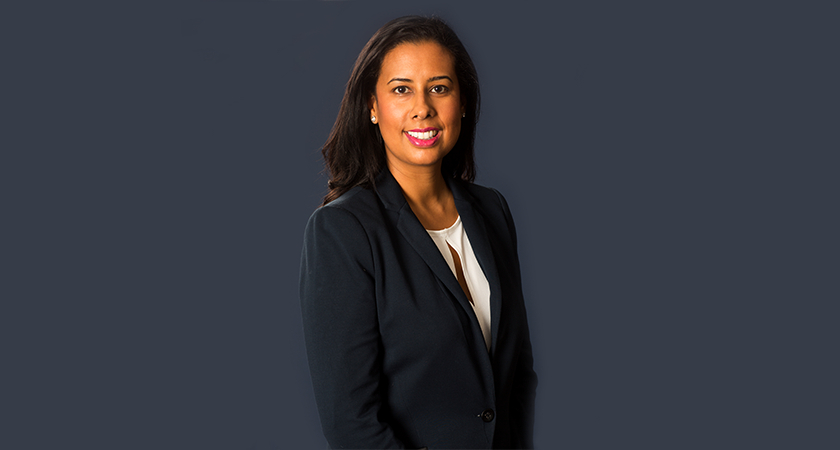 Centennial College is a school of the world. We bring in a diverse student body from across the globe, and give that body a worldly perspective. To do this, we have a team of Global Citizenship Education and inclusion officers, led by Yasmin Razack, Centennial's Director of Global Citizenship Education and Inclusion, responsible for helping everyone in the College's diverse student body feel welcome and accepted, as well as providing them with a global perspective of social justice. Here's how she got to where she is, and why inclusion and a worldly perspective is important to her.
Motivation
The daughter of immigrants from Trinidad and Tobago, Yasmin initially sought to become a lawyer and activist, thanks to experiencing discrimination at a young age.
"I think purpose drives passion," Yasmin says. "When I was in grade six, I was bullied, but I still kept up my grades and got to go to enrichment. I saw the power of how education can transform minds, and I was exposed to a lot of different people who worked with communities to mobilize change."
"It became a purpose in my life to ensure that people had the educational tools to overcome their ignorance, or to grow, or to connect more with people by removing the biases and individual boundaries we put up because of lack of knowledge and understanding" she continues. "When I saw the injustices that were going on, I just decided that education is where I needed to be."
Coming to the college
"I've always worked in post-secondary," Yasmin says of her lengthy career. "I began at York University, then I went to Mexico. I did a public relations internship there, came back, and that's when I started my Masters of Education, worked at the Canadian Hearing Society, then I got a job at the University of Toronto. From there, I worked at Harmony Movement, a social change organization, and I was the director there. And that's when I got a job at Seneca as Diversity Officer, and the position came up here for Dean of Equity. I I never thought I'd get the interview, but I did. Fast forward, and here I am as the director."
She'd been eager to join Centennial College ever since attending a cultural symposium held by the school and witnessing its commitment to global citizenship, through college president Ann Buller giving a speech about the college's commitment to social equity.
"I saw Ann Buller give a speech," she says, "and she had shaved her head for her sister, who was undergoing treatment for breast cancer at the time. Everyone at the college had this value of global citizenship and equity every time they spoke, and with what they were doing. I was so impressed with the symposium."
At the college
With close to 20,000 students, 187 cultures and 200 languages represented at the college, Yasmin's department has their work cut out for them, but they consider it important.
"You can't imagine coming here from another country, not knowing anything about where you are, the people, the culture, et cetera," Yasmin says."You have people that have lived here for one or two years, and people that have lived here all their life all coming here."
She sees the department having two major roles: Inclusiveness and Education.
"Everyone needs to get along. That's the inclusion side," she says of their first job. "Our area works with all others to ensure that there's an inclusive working and learning environment, so that if you come here, you can to be whoever you are, whether you're LGBTQ, or you're from a specific religious background, and feel safe and included."
"The second area is around the Signature Learning Experience (SLE), the transformative learning experience," she continues. "We also work with international on Global Citizenship and Equity Learning Experiences (GCELEs)."
Centennial's Signature Learning Experience means students receive insight on principles of social justice, global citizenship and equity in their education, in addition to career skills. Meanwhile, the GCELEs help students prepare for the global economy by giving them a chance to accompany their instructors on a trip overseas to build, learn from and assist people living in underserved areas. "When faculty and staff come back from GCELEs, they are partners with their students for life. The transformation that occurs is remarkable," Yasmin says. "I've seen it work, in our undergrads, students and staff, and that's been the most rewarding aspect."
And her proudest achievement? "I'm most proud of the Global Academy," she says, "which is a competition for students to develop a social innovation to bring about social change." In the past two years, the competition has seen students develop exercise bicycles that can power a building, and a cost-effective way of giving remote communities access to clean drinking water.
Looking to the Future
"I do think that in the future, because Centennial is so innovative, we're going to be partnering with industry more and more to ensure we're truly global in our education offerings, with that utility of social innovation and social entrepreneurship at the forefront," she predicts. "We have a great, dynamic team, and that team is really driven by purpose and passion, and works with the entire community."