QUESTIONS
P.O. Box 631 Station A
Toronto, ON, M1K 5E9
Broadcasting on location: How our students made The Journal happen from home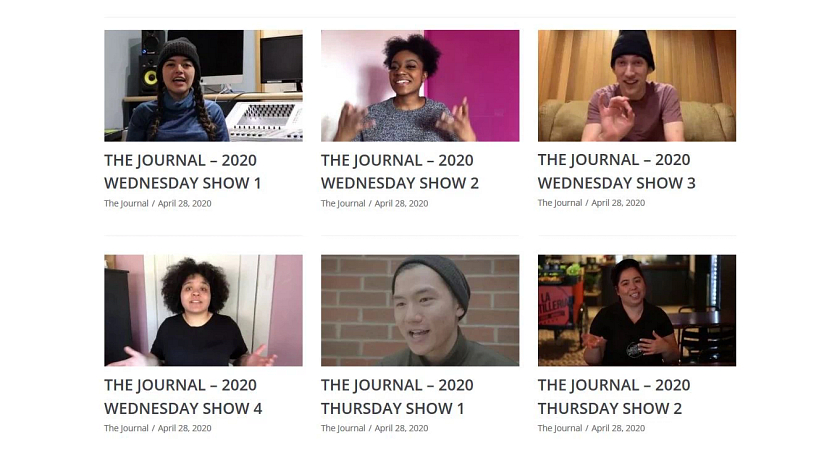 As world events compelled Centennial College's programs to adopt learning at a distance, teachers and students have found creative ways to adapt to the changes, producing amazing work with what they've been given. Our Broadcasting students were challenged when campus closures hit in the middle of their collaborative year-end project called The Journal, a news and lifestyle show made up of short documentaries, presented by student hosts, that's normally produced as a live-streamed TV show.
As learning remotely began, students had to pivot to completing the shows from home. Story producers finished up more than 50 short documentaries, then teams from the three class sections each produced, packaged and edited four full-length shows at home, for a total of 12 shows. The stories cover a range of diverse cultural topics including on-campus events, mini-biographies, music, art, community activity, , sports, festivals and loads more (you can watch them here). We spoke to three Broadcasting students, Mary Therese Vasquez, Samantha Chung Sang and Ferdinand Orlain, on how they made this transition.
The Journal's original form
"Originally, The Journal was a project that went across two classes, Television and Documentary," Samantha explains. "It would be four live shows at the end of the semester that, basically, we worked on for the entire semester."
"We all had multiple different roles," Ferdinand explains. "Each of us had a part in a solo doc, a part in a group doc, and a part in a certain department. For example, I was the main lead in the graphic department."
When the pre-taped documentaries were completed and edited, they were going to head into the studio and record live news segments in between. "And then it changed because of all this," Samantha says, referring to the pandemic.
How they pivoted to digital
"There was lot of communication," Ferdinand says about how his instructors handled the transition once everyone was learning from a distance. "A lot of emails from [Program Coordinator] Chris Terry, who was always on top of us," Samantha says, "which is what you need in a situation like this, because sometimes people lose motivation."
"We just kept emailing, doing our weekly check-ins," Mary says. "We'd have Zoom meetings. Chris Terry delegated really well. Ferdinand did really well with graphics, and Sam separated the docs into separate storylines per show."
"All of the professors really wanted to show that we could reach them under quarantine conditions," Samantha adds. "They were just really good at keeping tabs on us," Mary says, "and if someone wasn't in meetings, and they were kind of worried about them, they would ask everyone to message them and see how they were doing, because on top of schoolwork, mental health and everyone else's schedules with their families, they were really good about that, too. They were worried about us and caring."
How they put it together
"Then there was the part of actually assembling The Journal," Ferdinand says. "I had to edit it, so I took all of the elements that everyone had and made it into one show, and everyone had a certain part in it."
"We just picked up whatever else we could to finish the show," Samantha says. "Close to the end of our post-production, there was a lot of little things that people needed to just jump in on even though it wasn't technically expected. It was good, because everyone was willing to do their part."
Ferdinand was the MVP, according to everyone else, when it came to pitching in and helping out. "I was fine with helping anyone," he says. "People from the other classes were emailing me asking how to do things, and I was helping out as much as I can."
"Luckily for us most of the docs were done before we had to start post production," Samantha continues, "And if they weren't, they were lenient with shooting on our phones, and helped us get the best shooting and framing we could in our homes."
How it all turned out
"It's good for the first version of the online Journal," Mary says about the finished product. "When you watch it, it looks like a real live studio show, but when we were creating it and assembling it, it was really detached."
"Personally, I liked our Game Jam doc," Samantha says (it can be viewed during this episode). "It went through a lot of revisions. It was originally going to be four parts, because there was going to be four different people on it, then it was two parts, than one part. But it was a lot of fun to work on the doc. It was a great experience, and I'm glad that it got to be finished for the show."
What they gained from it
"Finding effective ways to communicate while being understanding," Samantha says about what she learned from the fairly unique experience. "It was hard at first, but I think we all found our ways to do it so we could get the job done and not put undue stress on people."
"You have to trust the people that you're working with, and you have to be able to communicate with each other," Ferdinand adds. "Time management was important, for one," Mary says. "You need deadlines for yourself. There's a cascade of people that just need to get things done, so you need to get your part done, so everyone else can get their part done. Just be a team player, that's what I'll get out of it."
"We all came out stronger as students," she adds. "It made us stronger."
Hope for the future.
"If people have to do The Journal online again next year or years later," Ferdinand says, "just be prepared to be stressed about it, and everyone's going to get through it differently."
"Ours was the base," Mary says about future editions of The Journal. "I want theirs to be better than ours. The show must go on, and ours is right there. I want to watch the ones future students make, and think: I should have done that."
By: Anthony Geremia