QUESTIONS
P.O. Box 631 Station A
Toronto, ON, M1K 5E9
Building the Indigenous, Zero-Carbon, Mass Timber Future of Higher Education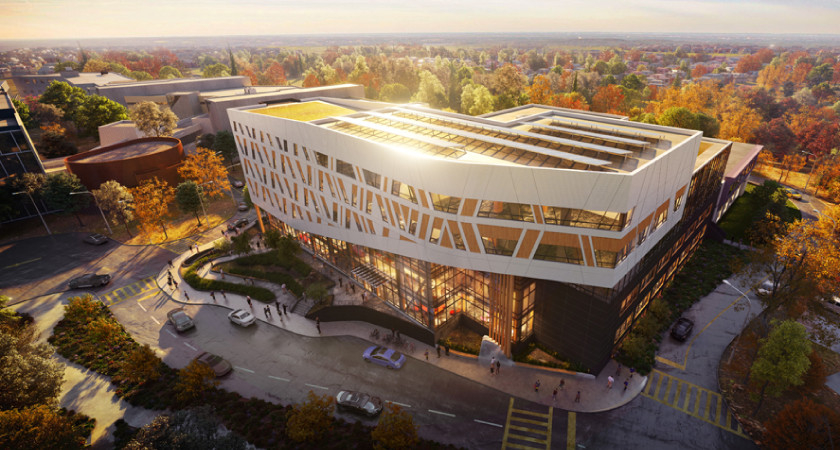 Centennial College is collaborating with EllisDon, DIALOG and Smoke Architecture to construct the first zero-carbon, mass timber higher-education building in the country, designed based on the concept of "two-eyed seeing." Forming a new gateway structure at Centennial's Progress Campus, the $105-million expansion to the Progress Campus A Block building will embody the College's commitment to Truth and Reconciliation and sustainable design when it opens in 2023.
"We wanted to raise the bar for future post-secondary projects," said Craig Stephenson, President and CEO, Centennial College. "At Centennial we view sustainability, inclusivity and Indigeneity as wholly interconnected ideas and we wanted a building that demonstrates that crucial relationship."
The design firms, DIALOG and Smoke Architecture, approached the project using our uniquely Canadian concept of "two-eyed seeing" or viewing the world through the lens of Indigenous knowledge and the lens of western knowledge. The resulting design brings together Indigenous and Western cultures in both the form and function.
"This project grows beyond the simplistic application of Indigenous elements onto a mainstream design," said Eladia Smoke, Principal of Smoke Architecture. "This design is rooted in Indigenous principles, evoked in a contemporary setting. The building's narrative is a story of seed, growth, culmination, and balance, revealing the seven directions teachings in a cyclical view of an interconnected world."
Students will enter the building from the east (informed by regional Anishinaabe architecture, respecting the sunrise as a good place to begin), encountering a grand staircase that forms part of the Wisdom Hall, an active multi-storey space of convergence for students, staff and visitors that connects people to Haudenosaunee and Anishinaabe creation stories. The life of the building revolves around an Indigenous Commons that opens up into a central courtyard with native plantings. Indigenous concepts of community, biophilia (reaffirming our connection with nature), and sustainability are embedded in the design.
The A Block expansion creates an array of new academic spaces with flexible classrooms that support active learning and Indigenous ways of teaching and being. There are new labs for the School of Engineering Technology and Applied Science (SETAS) program and numerous informal spaces for collaboration and socialization. In total the project will add over 150,000 square feet of new and renovated space to help meet the anticipated growth in student enrolment at the College – without adding to its carbon footprint. This is a zero-carbon project.
"This project will be a clear demonstration of how higher-education facilities can make an important contribution to reducing environmental harm by eliminating CO2 emissions," said Craig Applegath, Project Principal, DIALOG. "Its zero-carbon emissions design, and its ability to store thousands of tonnes of carbon in its sustainably harvested mass timber wood structure, will be an important precedent in both Canada and around the world."
Mass timber – using engineered wood products to create building structures instead of steel or concrete – is an emerging technology that has the potential to sequester a lot of carbon, if the wood is sustainably harvested. According to EllisDon, the construction company leading the design-build project, our A Block expansion could become the first post-secondary mass timber facility completed in Toronto.
"EllisDon's mass timber specialists eagerly anticipate working closely with Centennial College and our design partners at DIALOG and Smoke Architecture to create this precedent-setting project," said Geoff Smith, CEO, EllisDon. "Centennial College's A Block [expansion] project delivers us all the wonderful opportunity to construct sustainable structures that are not only beautifully functional, but more importantly help immediately address the critical challenges posed by climate change."
About Centennial College
Centennial College is Ontario's first public college, established in 1966, primarily serving the eastern portion of the Greater Toronto Area through five campuses. It has a record of exemplary teaching, innovative programming and extensive partner-ship building. Centennial offers more than 300 diploma, certificate and degree programs on a full- and part-time basis in business, media, arts, community and consumer services, engineering technology, health care and transportation. The college enrols more than 26,000 full-time students and 19,000 part-time learners annually.
About EllisDon
EllisDon is an employee-owned construction services company with revenues in excess of $3 billion annually that delivers construction expertise to clients throughout the world. In addition to offering construction and project management services, EllisDon effectively takes on client risk with a range of capital; intelligent building; virtual design and construction; and furniture, fixtures, and equipment procurement services.
About DIALOG
DIALOG is an integrated, multidisciplinary design practice with over 700 people practicing from studios in San Francisco, Vancouver, Calgary, Edmonton, and Toronto. The firm's work includes designing for urban vibrancy, health and wellness, transportation, higher education, arts and culture, residential, retail, commercial, and transportation, as well as mixed-use solutions. DIALOG is passionate about design. They believe it can, and should, meaningfully improve the wellbeing of our communities and the environment we all share.
About Smoke Architecture
Anishinaabeg owned and operated, Smoke Architecture has been providing complete architectural services since 2014 with a focus on First Nation and Indigenous projects. Their design process rediscovers Indigenous knowledge in contemporary contexts and leverages land-based learning.
About the Project's Sub Consultants
The following specialty sub-consultants and subject matter experts are part of EllisDon's design-build team for this important project:
RJC – Structural
Smith & Andersen – Mechanical & Electrical
Vertechs Design – Landscape
Walter Fedy – Civil
RDH – Building Envelope and Sustainability
Vortex – Code Consultant
Aercoustics – Acoustic Consultant
Entro – Signage
MHBC Planning – Planner
KJA – Elevator Consultant
Related links:
https://www.ellisdon.com/
http://www.dialogdesign.ca/
https://www.smokearchitecture.com/