QUESTIONS
P.O. Box 631 Station A
Toronto, ON, M1K 5E9
Campus residents receive a helping hand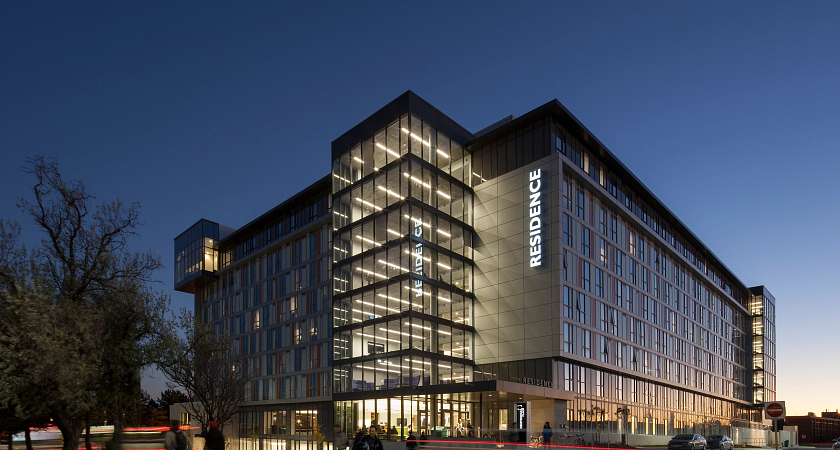 Despite the fact college campuses are presently closed across Ontario due to the coronavirus pandemic, Centennial College is supporting a little community of students living at Progress Campus.
The Centennial Place residence is currently home to more than 250 people, many of whom are international students who have been unable to return home as a result of COVID-19 travel restrictions. The majority of students are from China and India, with the balance coming from Brazil, Vietnam, South Korea, Jamaica, Ukraine, the Philippines and Turkey, as well as other nations.
Like everyone else at this time, the students' ability to socialize or travel off campus has been restricted due to social distancing requirements. They are able to cook for themselves in the residence, but there's very limited choice of take-out meal options within walking distance of the campus. With their plight in mind, Board of Governors member Alexandra Raphael came up with a plan to help our residents access more meal options.
"People in Toronto were starting all kinds of grassroots campaigns to help members of the community who seemed particularly hard hit by the coronavirus," Alexandra explains. "There were fundraising campaigns to help support local restaurants, to provide meals for health care workers and groceries to older people who couldn't leave their homes. I thought that our students in residence, many of whom are from outside Canada, were a similarly hard-hit group."
"My daughter helped me come up with the 'meal train' idea. Some friends and neighbours had organized a meal train for her when she was undergoing cancer treatment. Hers was a very simple meal train because people just signed up to cook meals and bring them to her house. But as we talked about it, I realized that we could probably organize a meal train on a much larger scale for the students in Centennial Place."
The Meal Train website urges people to use third-party food delivery companies like Uber Eats to provide contactless meal delivery to help nourish people such as hospital workers. Her son explained how Alexandra could get people signed up on meal train to buy vouchers from companies such as Skip the Dishes and gift them to Centennial students.
Meal vouchers are available on the website in dominations of $25 each, which includes the cost of delivery. The office staff at Centennial Place distribute the gift cards to student residents in need.
"If I was an 18-year-old living in a student residence halfway around the world from my home, I think it would make me very happy to know that someone I had never met cared enough about me to buy me dinner," says Alexandra. She credits her mentor on the board, Abby Slater, for being her "sounding board" for this project.
"Abby is involved in a lot of community projects and is a huge Centennial College fan," she says. "I have had a wonderful time working with staff member Sarah Van Osch; she really wanted to make it work from the Centennial side. I also want to thank Centennial President Craig Stephenson for being open-minded enough to let me do this."
The link below allows donors to buy Uber Eats vouchers for our Centennial Place students. Please consider making a meal voucher purchase today, and let our students know that there are people who care about them, even as they're residing far from their families at this time.
Visit this webpage to access the meal train.
Instructions as to how to participate in the meal train are on the website; just press the yellow tab marked Instructions. Thank you for your generous support!