QUESTIONS
P.O. Box 631 Station A
Toronto, ON, M1K 5E9
Auto tech students will be at the Canadian International AutoShow Feb. 12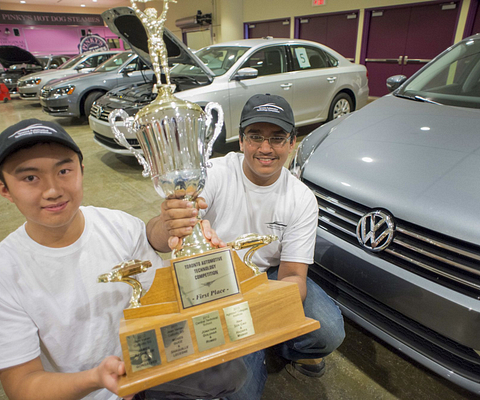 Automotive tech students from 20 Ontario high schools will test their knowledge and mechanical expertise in a high-octane skills competition at the Canadian International AutoShow on Media Day, Feb. 12.
The two-member student teams will have 120 minutes to diagnose and repair 12 new Volkswagen Jettas deliberately rigged with identical operating problems by Centennial College's automotive tech instructors. The teams will also shift between five workstations to test their analytical skills in electrical, steering, suspension and brakes, engine measurement and mechanical, and waveform analysis.
Centennial College and the Trillium Automobile Dealers Association (TADA) have been running the competition at Toronto's auto show for the past 16 years. The students, all of whom are studying automotive service technology in secondary school, will be vying for big prizes including scholarships, tools, textbooks and General Motors vehicles for their school shops.
The top-ranked team will represent TADA at the National Automotive Technology Competition in New York in April. Toronto students have been a formidable force there: a team from Central Technical School beat all of the U.S. teams and collected prizes worth $250,000 in 2008. A Northview Heights Secondary School team placed second in 2009.
The Toronto Automotive Technology Competition enjoys outstanding support from the industry. Sponsors include: TADA, the Canadian International AutoShow, Volkswagen Canada, General Motors Canada, Snap-On Tools, Consulab, Canadian Tire, Toromont, Electude-Argo, Nelson Education, Pearson Education, ShockLock, TecMate and Centennial College.