QUESTIONS
P.O. Box 631 Station A
Toronto, ON, M1K 5E9
Caring for our youngest: Deborah Matthews-Phinney's career in Child and Youth Care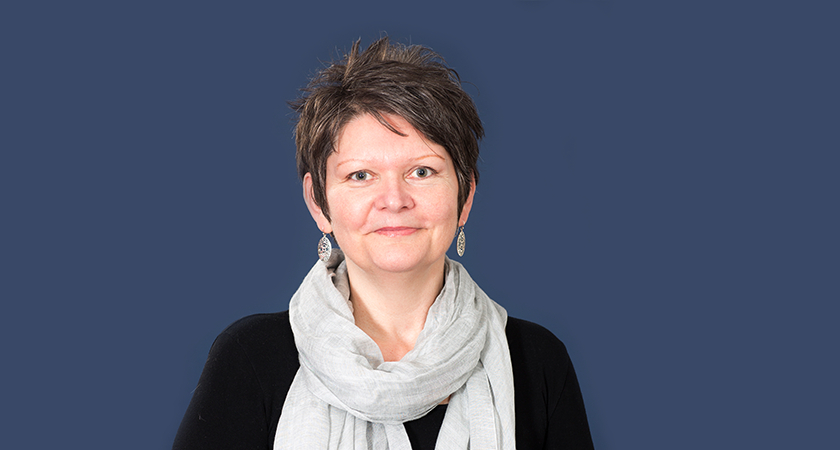 Centennial College has spent 50 years setting alumni up for rewarding careers that contribute to the social good. Deborah Matthews-Phinney's career is one of caring for the youngest members of society, as a child and youth care worker. We set her lengthy career up for success, and Deborah would eventually return the favour, taking what she learned back to Centennial to train new generations of child and youth care professionals. Here's her story.
A history of care
Deborah attended Centennial's old Warden Woods campus, learning how to become a child care worker in the program that would eventually evolve into our current Child and Youth Care Program.
"I grew up in eastern Ontario, in a family that really believed in giving back," she explains. "My parents came from poverty in Britain as immigrants to Canada, and my entire family has gone into helping services. This was 30 years ago, when going to college was still relatively new, and for me, I came up to Toronto, saw Warden Woods Campus, and decided I wanted to live in the city and be in this program. Even back then, this program had a phenomenal reputation." She would graduate in 1986, the beginning of a long and fruitful career.
"I really feel as though my training at Centennial prepared me for what turned out to be more than 25 years as a career in children's mental health," she says. "My focus for all that time has really been on the wellbeing of children, youth and their families, working in a variety of settings, from young children to kids with autism, as a frontline worker and as a manager."
"I've worked in all children's mental health centres of one sort or another, particularly with kids who were very misunderstood," she continues. "Often these were kids struggling in school, with behaviour that prevented them from becoming successful. I made it my entire career's work to really try to understand the unique needs of each child, and try to figure out the recipe to make them successful. My most rewarding times are when I see children shine, and when they tap into their incredible potential, which is why it was so easy to make the transition into teaching."
Giving back to the school
During her career, Deborah would continue working with the school that set her career up, helping future generations along her path. At first, she was an advisor, but would eventually come back to teach.
"For many of those years, I sat on the advisory committee for the Child and Youth Worker program at Centennial," she says, "and I provided a whole host of field practicum opportunities for students."
"In the early 2000s, I began teaching part-time at Centennial, to supervise students in their field practicum and teach the seminar that went alongside the field placement. For me, making the move to teaching full time was really a way for me to continue that journey of children's mental health. I believed in the work, and I really wanted to continue to develop the young people that would be the future of our field." Eventually, she would begin teaching full time in the Child and Youth program at Centennial in 2010.
"Making the move to full-time has been remarkable," she says. "It is incredibly rewarding to be in the classroom with students. Every single day, I get to see their excitement, and that promise for a whole new generation of child and youth care professionals, who are all dedicated to improving the lives of others, particularly children and youth."
Special projects
"Centennial College does a phenomenal job of giving opportunities to students and staff to really take things as far as they can go," Deborah says. "The opportunities are endless."
Outside of the classroom, Deborah accompanied Centennial students on three GCELE trips, two to Kenya, one to Nicaragua.
"Each one was incredible and unique," she says. "Our primary goal was to support the plan for the local community to bring education to children in these rural communities, particularly girls. Our focus was in building schools, so we were laying brick and digging up ground every day." She'd then work with Suzanne Kanso, a student she went on the trip with, to bring "Semi Sweet-Life in Chocolate," a documentary on fair trade, chocolate, and child labor to Progress Campus.
Finally, she'd also work with the CCSAI in 2016 to host the World Water Day event at Progress Campus.
"Our focus in that was to really increase awareness at the college of global water issues, and we planned a number of interactive events that really inspired participants," she explains. "Anyone that walked across the bridge, or was given a water timer from the event was really inspired to think about what they could change or what they could do to improve our understanding and use of this incredibly precious resource."
Lifelong learning
It's been a long, successful road for Deborah, and she's not finished yet. She thinks of herself as a lifelong learner, and continues to develop her skills.
"I did decide to go back to school in my 30s, and I did an undergraduate degree in my field, Child and Youth care," she says. It was Centennial College itself that gave her the motivation to do so.
"I was not a strong student in high school," she admits. "Centennial inspired me to believe that I could be successful. Then I went on and finished my master's in education a few years later. That idea of lifelong learning is something that I got from Centennial College, and I don't believe I'm finished yet."