QUESTIONS
P.O. Box 631 Station A
Toronto, ON, M1K 5E9
Centennial Alumni, The Johnnys, Release New Album "Leathers and Feathers"
The Johnnys are a high energy rock 'n' roll powerhouse of a group that creates music that delivers an important message. Their fourth album, Leathers and Feathers, has just been released and includes eight songs that are not only catchy, but that explore critical topics that often reflect an Indigenous lens within the lyrics. Their core members, Dave Johnny, Veronica Johnny, Valentina Morelli, and Britney Jones happen to all be Centennial alumni, but how they came together, is quite unique.
Dave Johnny, co-founder and drummer of the group, arrived at Centennial to pursue the Journalism program – which has proven to come in handy. "Now I'm good at press releases, and promo, and I know how to talk to journalists. When we're doing promotions for the band, I'm often using some of those leftover skills…I ended up having fifteen to seventeen years of copyediting work all out of that initial Centennial experience so it allowed me to make a living as I was a struggling artist," he says. In 2002 while working as the editor at a small newspaper, which stemmed from his program's work placement, Dave and Veronica met. The town they were in, located in the Northwest Territories, was fairly small and so when they ran into each other on the street, they essentially already knew each other thanks to their friends telling them about one another. Dave says, "People were telling her 'hey there's this drummer from Toronto in town' and people were telling me 'there's this woman who sings and plays guitar who just moved home from Edmonton'…we just immediately clicked." They formed The Johnnys and got married all in one fell swoop.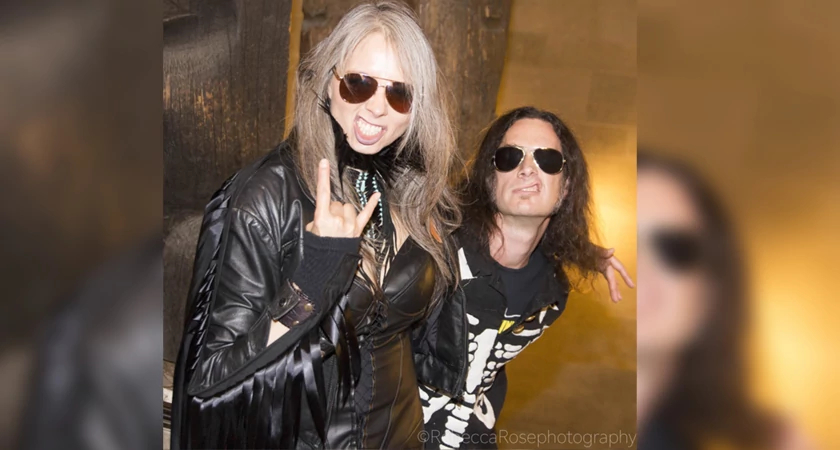 Veronica Johnny, co-founder and lead guitar/vocalist of the group, has always been surrounded by music, whether it be from the production side or through performing. In 1999, she went to school in Vancouver for audio engineering, which similar to Dave, has proven to be useful because she engineered this entire album, Leathers and Feathers, as well as their debut album. When Veronica and Dave met and created the group, they eventually moved to Toronto, and after ten years of actively pursuing music, Veronica wanted to undertake more schooling. "We had been wanting to get The Johnnys to the next level so that's where the [Music Industry Arts and Performance] program came in," she says. Veronica was in the very first cohort of the program and came into it as an experienced music industry professional in her late 40's. "It was really cool that I got to hang out with so many people that were much younger than me and I got to understand more about what their generation was about. It was such a great experience. I was the oldest in the room, but I already had this rock band. There were so many talented musicians and incredible people we met from that program," she says. "What's great about the program is that it trains you to be really comfortable as an engineer even if you're not so that you can record and communicate what you want to the people that do it every day. The other great thing about the program is that if you want to be in music, it really gave you a taste of all of these different ways you can earn money."
Within the program, Veronica met Valentina and Britney and through its entirety, they became a really close core group. Veronica explains, "We had been in several ensembles together so I could see their work ethic and talent, so that's why I said, 'do you want to come and sing with us in The Johnnys'." However, that's not where the collaboration stemming from this program ends. Ron Skinner, their radio engineering instructor, did the mixing and mastering of Leathers and Feathers through the company Heading North Mastering, while Kathryn Waugh, their copywriting and publishing instructor teamed up with The Johnnys through her company Music Matters, which Veronica describes has been an incredible experience.
After completing the program in 2016, The Johnnys have since been creating music. Dave says Valentina and Britney are "backing vocalists with us and they've really had an impact on us in terms of their energy and their positivity, aside from the fact that they're incredible singers. You can give them anything to do and they can hit those notes without breaking a sweat." The music The Johnnys produce has depth and meaning behind each verse but remains pure rock 'n' roll. Dave says they have found a balance between catchy, beats oriented music, but with lyrics that give you something to think about without being preachy. "I'm happy to have hit that balance…because no one wants to be talked down to. We're really trying to find that balance to have our lyrics be socially and politically progressive but never lose our sense of fun."
The group is also very diverse, as Dave adds, "It's an interesting lineup we have because we have people from different generations, different backgrounds, genders, and sexual orientations. It's not something we ever aimed to have and it's something I'm really happy about…it helps our music speak to a wider audience." Veronica identifies as a Two-Spirit, Métis-Cree, cis woman and it impacts the work she does both within, as well as outside, the group. "It's important to understand that identity is something very personal and it's important for us to be mindful of that. It's important to me because it's part of my identity and the queer community is close to my heart. Other members of our band are very much part of the queer community."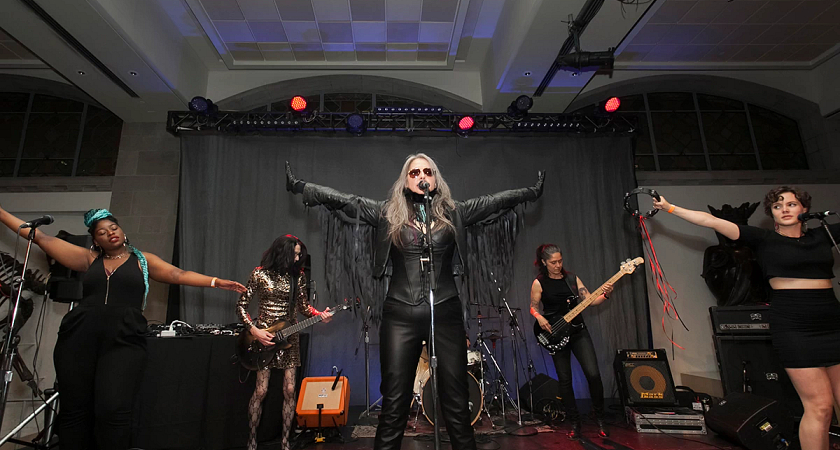 Veronica holds a Two-Spirit drum circle where she lives, as well as works with youth through her business IndigenEd, where she delivers cultural education through workshops. She says, "Everything I am involved in, whether it's my visual art, whether it's The Johnnys art, whether its Veronica Johnny Music where it's more hand drumming and singer/songwriter type music, and through my workshops, it's all about creating an understanding and healing while bringing out good energy into the world. That's my full intention with everything I'm involved in.
The album, Leathers and Feathers, which you can go listen to now, has a song in particular titled Your Girl that is in partnership with Convoy 4 Action. Veronica says, "Convoy 4 Action is about holding the Canadian Government accountable for the 231 recommendations that were made as part of the National Inquiry of missing and murdered Indigenous women and girls… Your Girl is a song written to people who don't think it's an issue for them or they don't understand that if it can happen to our women, it can happen to anyone."
The last song on the album that follows Your Girl is Nisakihtan Kiya Kisoskatowin and is written and sang completely in Veronica's Indigenous language, Nehiyawewin. "I'm all about decolonization, retribalization, healing, connecting with the land, helping people do their own healing through music and art, and encouraging connectedness because we are one people. You'll hear stuff like that in the lyrics, you'll hear a lot of our belief systems in our music and you'll see it," she says. With partial funding by the Ontario Arts Council, Leathers and Feathers is an album that speaks on issues important to Indigenous people, while maintaining the familiar rock 'n' roll sound.
To find out more about The Johnnys, and to listen to Leathers and Feathers, check out their Instagram and Twitter: @thejohnnysrock or search The Johnnys on Spotify, Apple Music, and SoundCloud.
Written By: Alexandra Few