QUESTIONS
P.O. Box 631 Station A
Toronto, ON, M1K 5E9
Centennial Arts Students Bring Their Work to the Waterfront with Winter Stations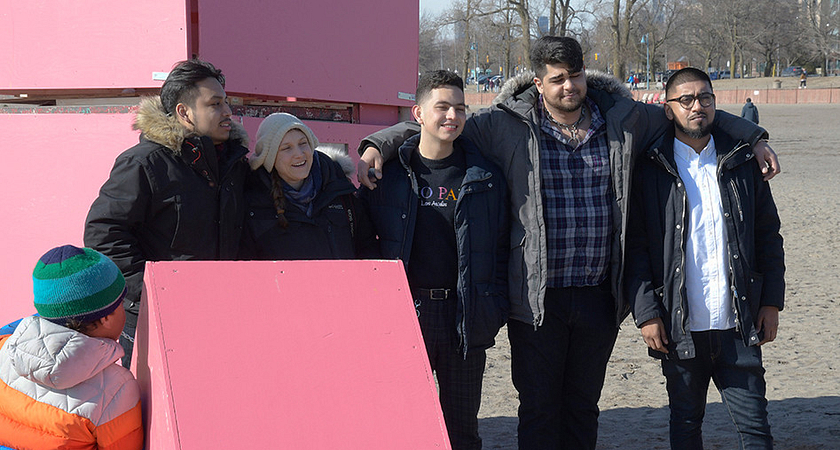 Winter Stations is a yearly art installation held along Toronto's beaches. It started in 2014 and has become a Toronto institution ever since. Every year, they invite a college or university institution to participate, and this year, it was Centennial College's time to shine, with our own student-created art installation.
After presenting the idea to a group of art students, a team of four was formed. Zia Foley, a Fine Arts Studio student, served as project coordinator. Nicholas Davidge, aka Mind, acted as a construction lead. Meanwhile, Graphic Design students Anna Rasti and Jacobo Roldan Ortiz served as designers. The four students put together a proposal for their unique art installation.
"Everything fit together beautifully," says Centennial Fine Arts Studio Program Coordinator Lisa Binnie, who served as a project facilitator, mover, installer and general project cheerleader. "Their ideas really meshed, and it was quite magical, actually. It was really exciting to see how well they managed to brainstorm with each other."
The team then built a model, followed by a full prototype over Christmas to test their construction techniques, and it went from there. To help them with this part, Pasquale Palazzo, a woodshop instructor from our Product Design and Development program trained the team with hands-on skills they needed to make the installation happen, the first of many to help out with construction.
The students would build these models and the final installation on their own time and were able to swap out Centennial College assignments to do it. More fine arts students, including Walter Penado-Vasquez, Talha Saeed and Paul Rajan jumped in for the final push, along with volunteers to help set it up.
On February 13, the students had a formal launch at the Fox Theatre on Queen St. East. After that, it took a whole team of volunteers to move it down to the beach ahead of the launch on Family Day, Monday, February 17, at 11 am, working all weekend to install it in the freezing beach winds.
"We were very fortunate that the weather conditions were what they were," Lisa says, "because sometimes in the winter the beach can have a foot-thick layer of ice pushed up from the lake. It could have been totally frozen, it could have been mud. But the weather was definitely on our side, though it was incredibly windy."
After the public launch, the students and installation received a ton of media coverage, from Global and CTV, as well as CBC Radio Canada. For these, Jacobo Roldan Ortiz served as media liaison, doing many of the interviews, just one of the many benefits the project had for the students.
"For one thing, a couple of them learned quite a bit about project management," Lisa says about what they gained from it. On top of that, the fact that they managed and executed a large project will look great on their resumes, along with the exposure (and media coverage) that comes with a big, recognized public project.
"It's taught them a lot about themselves," Lisa adds. "It's really boosted their confidence, too. It's really hard to capture the excitement. Everything they wanted to happen happened."
Written by: Anthony Geremia