QUESTIONS
P.O. Box 631 Station A
Toronto, ON, M1K 5E9
Centennial awarded research funding for electric landing gear and smart app initiatives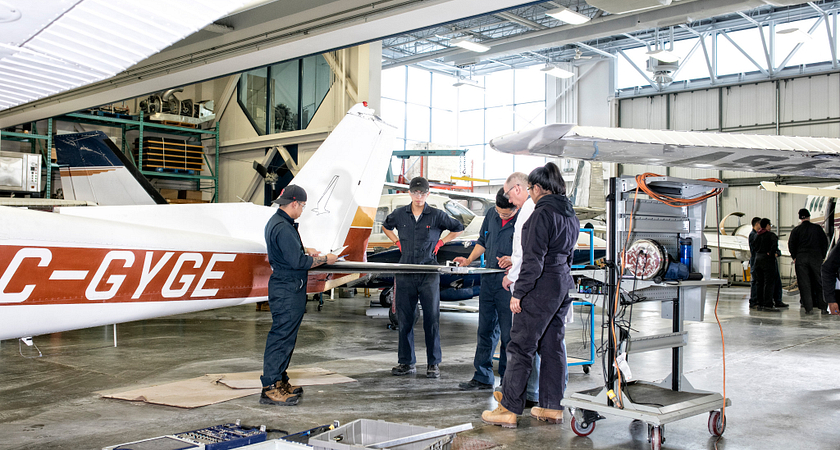 Centennial College has been awarded more than $1 million in research and innovation grants from the Colleges Applied Research and Development Fund (CARDF) to support research into innovative electrically actuated aircraft landing gear, as well as smart app initiatives.
CARDF is supported by the Ontario Ministry of Research, Innovation and Science in partnership with Ontario Centres of Excellence and Colleges Ontario. The $20-million CARDF program aims to drive increased industry/post-secondary collaborations while creating an efficient marketplace for industry to access innovation, productivity and commercialization services from the province's public colleges.
"Our province needs talent to continue to sustain its growing innovation eco-system. Investing in applied research and development is a step towards a brighter and more prosperous future for our province," said Reza Moridi, Minister of Research, Innovation and Science. "By bringing together colleges and the R&D sector, we're creating opportunities for our students and ensuring they are ready for the jobs of tomorrow."
A major portion of Centennial's funding is through CARDF Stream 1 for research into next-generation electrically actuated landing gear for commercial aircraft. Aerospace manufacturing is vital to Canada, contributing more than 211,000 value-added jobs to the economy in 2015. It's especially important to Ontario, which builds 40 per cent of the world's landing gear used by commercial airliners.
Weight savings is key to developing next-generation landing gear technology that will minimize maintenance costs, improve fuel consumption and reduce airliners' carbon footprint. Centennial is working with the landing gear supply chain to help address these challenges by developing additive manufacturing design, building and testing methodology to decrease the weight of aircraft systems. The project leverages existing investments and Centennial's robust record of accelerating industry-led innovation.
At the same time, the college is committed to training the next generation of aerospace innovators. Over the 30-month research program, the $1.0 million OCE CARDF Stream 1 grant will be matched with $250,000 in cash and $1,315,400 in-kind contributions from the college's aerospace industry partners. The research will employ a number of paid students, ensuring that developing highly qualified and skilled personnel through industry-led innovation remains a priority. Centennial's funded research will support six projects related to additive manufacturing using polymers and metals.
Centennial has also been awarded funding from CARDF's Colleges Voucher for Technology Adoption stream to develop the next generation of smart mobile and web apps powered by artificial intelligence, Internet of Things (IoT) support, cloud-based solutions and a gamified user experience. Replacing the traditional, rigidly structured apps, these smart apps will enable businesses to offer more interactive services and drive profits and user retention.
For more information about CARDF: Ontario Enhancing Research Opportunities for College Students