QUESTIONS
P.O. Box 631 Station A
Toronto, ON, M1K 5E9
Centennial breaks into Top 10 research colleges in Canada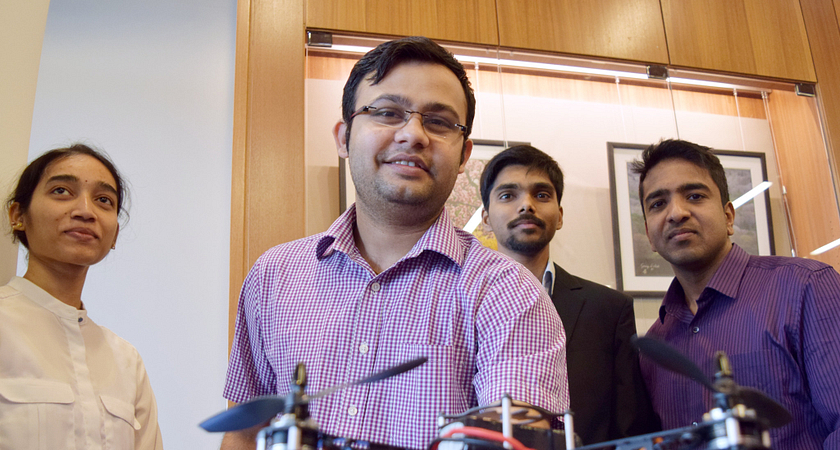 Centennial College is ranked in ninth place by research income in the 2016 Canada's Top 50 Research Colleges report, which represents a substantial rise from 12th place last year. With $5.44 million in research activity in 2015, Centennial is among the top 10 Research Colleges across Canada for the first time – a testimony to the hard work being led by Applied Research, Innovation and Entrepreneurial Services (ARIES). In addition, Centennial is ranked second among large colleges for the number of students with paid applied research projects.
Joining Centennial in the Top 10 list is Sarnia's Lambton College (ranked third nationally), Sheridan (sixth) and Niagara College (seventh) among Ontario colleges. Overall, Cegep de Saint Hyacinthe was ranked first in Canada with more than $10 million in research activity last year. Quebec's Cegep institutions took five of the top 10 research colleges in Canada. Overall, the combined research income of the 15 Ontario colleges actually shrank by 4.7 per cent in 2015, although Centennial bucked the trend by recording a 3.9 per cent increase in research income over 2014.
"What gives me the most pride is the fact that we had the second highest number of paid student researchers in the country," notes ARIES Executive Director Dr. Deepak Gupta. "It speaks to our unique model we have built around ensuing student success with applied research."
Some of the noteworthy research projects Centennial has led include Friendly Housemates, which matches college students with persons with intellectual disabilities to live together in a supportive arrangement that fosters independent living; the smart IV bag, an innovation that monitors fluid levels in hospital IV bags and alerts attendants when the bag needs changing; and the Macaw charge controller, the brainchild of Clear Blue Technologies.
The Macaw device communicates vital hardware stats to the user regarding issues with the energy collectors (wind and solar) that power the firm's off-grid lighting systems. Working with the test installation at Progress Campus, Centennial students fine-tuned solar panel configurations using Macaw algorithms, and designed and prototyped the protective enclosure of its controller boards, factoring in corrosion, UV, humidity and other variables. It was invaluable research that helped to refine the equipment ahead of market release.
In addition, Centennial's Wearable, Interactive and Mobile Technologies Access Centre in Health (WIMTACH) is a development hub for digital health technologies. With Ontario being home to 42 per cent of Canada's medical technology industry, WIMTACH assists small- and midsized enterprises to become more innovative with the help of college tech students and graduates. WIMTACH has become a big proponent of "hackathons," which put bright college students and employers together in a room to solve industry problems in as little as 36 hours.
In one example, Centennial Software Engineering students were challenged by two regional hospitals to create smartphone apps that can provide low-cost healthcare solutions. Over two intense days last January, students came up with a game to create awareness of calcium levels in diet; an app to perform hand hygiene audits in hospital settings; software that allows hospital employees to report their absence; an app to capture hospital improvement opportunities; an anti-smoking app; and a communications system to replace pagers still used by some health professionals.
"We are cutting through a lot of red tape when we do these hackathons," says Research Associate Vikramjit Singh. "Product development is usually a slow, plodding process with lots of paperwork. Imagine how excited employers get when they see products created in front of their eyes."
With projects like these, Centennial College is rapidly gaining a reputation for fostering rapid and innovative applied research that can benefit small and midsized start-ups and enterprises in the GTA and beyond. Centennial's latest ranking in the national Research Infosource report is proof positive that Ontario's first college is transforming lives and communities through learning.