QUESTIONS
P.O. Box 631 Station A
Toronto, ON, M1K 5E9
Centennial Chef wins People's Choice award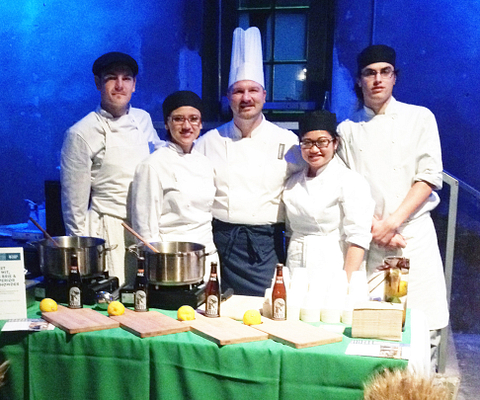 Centennial College's Chowder Chowdown winning team includes (from left): Michael Hanley, Diana Gomez Bolado, Chef Thomas Heitz, Kleyr Balingit Ombao and Eric Loucks.
Congratulations to Chef Thomas Heitz of Centennial's Horizons Restaurant, who earned the title of People's Choice winner at the recent Ocean Wise Chowder Chowdown hosted by Toronto's historic Distillery District. The fifth annual competition challenged 11 local chefs to create a tasty and "ocean-friendly" chowder, since the event is organized by the Vancouver Aquarium to raise awareness of sustainable seafood practices in Canada.
Chef Heitz served a Lake Superior trout chowder together with a Mill Street Brewery Belgium-style beer and an Ontario Brie cheese, which was the overwhelming crowd favourite, garnering almost two-thirds of the audience vote. Helping him with his creation were Centennial culinary students Diana Gomez Bolado, Eric Loucks, Kleyr Balingit Ombao and Michael Hanley.
"Chowder is such a nostalgic thing. If you mess with chowder too much, people will hate you," he told the Scarborough Mirror. "The trick was finding out how to take something that was so nostalgic and give it a little twist." He credits the assistance of his keen Centennial students for the recipe's success. Industry judges selected Chef Kendall Collingridge of the restaurant Hooked as their choice chowder maker.
Born in Lahr, Germany, Chef Heitz's affectation with food was influenced by the European culinary focus on fresh ingredients. Coming to Canada he had the opportunity to explore new, globally inspired cuisines while working at several renowned Ontario resorts and restaurants. He loves frequenting farmers markets for locally grown produce, knows the local fish mongers and butchers by name, and refuses to keep a microwave oven in his own kitchen at home.
The annual Chowdown event, which takes place in four Canadian cities during the month of November, is designed to draw attention to the consequences of overfishing and destructive industrial fishing methods. Proceeds from the competition go to support the Vancouver Aquarium and its Ocean Wise program, which aims to educate consumers about sustainable seafood.