QUESTIONS
P.O. Box 631 Station A
Toronto, ON, M1K 5E9
Centennial College Frees the Tampon!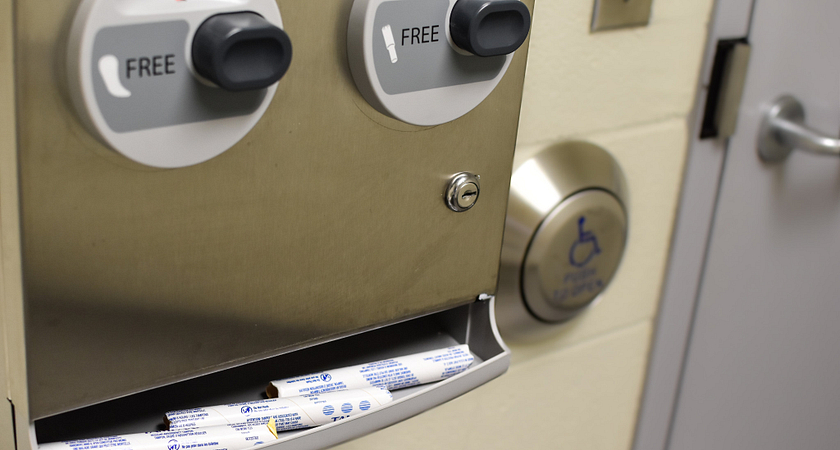 At Centennial College, accessibility is important. All students require access to the resources they need to make their days at school healthy and productive. There was a gap in what we provided that was recently closed, thanks to Free the Tampon, an initiative meant to provide feminine hygiene/menstrual products in woman's washrooms at no cost. These free dispensers are something that's not common, making the college a trailblazer for equity of access. It all started with Lyle Williams, an Adaptive Technology Specialist, and Keri Banka, a Disability Assistant Technician, who both work at the Centre for Students with Disabilities. They noticed the problem, then kicked off a quest to fix it. "I have never seen free dispensers," Keri says. "Some places I've worked, there's a basket where women put extra stuff in, but that's about it. And it's not sustainable."
Making it happen
Free the Tampon was a proposal submitted to the College's Social Action Fund (SAF) as an opportunity to increase awareness about the inequity of washroom hygiene and work towards funding access to feminine menstrual product dispensers in woman's washrooms. Unfortunately, the SAF committee felt this project was beyond the scope of the SAF. However, the SAF team did recognize the importance of this initiative and suggested it to be funded via another method within the college.
In their research, Keri and Lyle talked to Tyrone Gangoo in the Facilities Department, who gave them an idea of pricing and what efforts were involved in making it happen. Tyrone then raised the issue to Shannon Brooks, Associate Vice President of Corporate Services who decided to convert the college dispensers from paid to complimentary. Shannon recognized this inequity of access to menstrual products and made them available in washrooms free across the College.
The second initiative to extend free access to menstrual products through all spaces at Centennial began with the Student Association's Transforming the Future Fund (TTF). Another Free the Tampon proposal was submitted to TTF, requesting an awareness initiative as well as the funding of free menstrual product dispensers to be installed across all CCSAI facilities. Penny Kirlik and the CCSAI team recognized the importance of this initiative and decided to convert their dispensers from pay-based to complimentary. "This was a huge win," Lyle says.
Why it's important
Keri and Lyle believe Free the Tampon has fueled a conversation about access and equity for hygiene products in public washroom facilities. "It is arguable that most men do not have to question whether a washroom facility will be stocked with the products required for use," Lyle says. "Men are not charged with payment of any hygiene products when accessing on-campus washroom facilities, however, women at Centennial were required to bring/pay for personal hygiene products related to menstrual."
This project provides women with access to free menstrual products in washrooms. "In many cases, women have to plan ahead, bringing necessary hygiene products - possibly concealing these products, have money on their person if necessary, borrow from a washroom mate, etc," Keri explains. Having access to complimentary dispensers has alleviated many of these challenges to women's washroom hygiene. "We give condoms away for free at the school," Keri adds. "Tampons are a mandatory need for women."
This project also supports the needs of those with socioeconomic limits on purchasing menstrual products. "I paid $17 one time for 10 at the airport," Keri says as an example, "because I didn't have any on me. I should have been paying $4." This is a particularly crucial issue as these products are an essential need. The cost associated with the acquisition and use of these products can be financially burdensome. Menstrual products should not be an added cost for females in the public space.
Centennial is one of the first Canadian institutions to make access to menstrual products a free service on campus. This speaks to Centennial's vision of equity and inclusivity.
What's next?
The next step is complimentary dispensers in every washroom, regardless of gender, which means supporting trans-inclusivity by making them available in men's washrooms as well. It's just about hygiene. Having personal hygiene dispensers available in the inclusive washroom works towards eliminating potential discrimination from washroom selection choice and provides an inclusive environment for accessing necessary products in washroom use.
"It's a great thing for Centennial to pave the way with," Keri says, "especially since feminine hygiene products stopped being taxed as a luxury item in 2015. So it's something bigger, part of a movement that Centennial should be proud of."