QUESTIONS
P.O. Box 631 Station A
Toronto, ON, M1K 5E9
Centennial College honours its very best athletes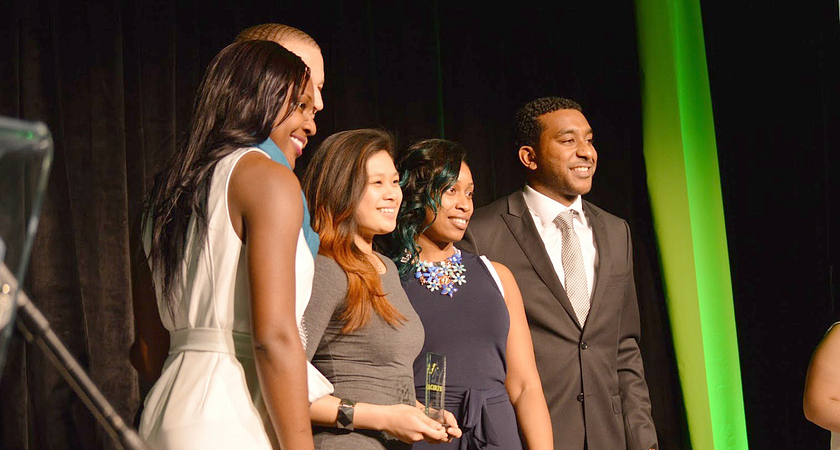 Capping off another year of remarkable success by student athletes wearing the Centennial Colts colours, Centennial College Athletics and Recreation hosted its 49th annual Athletic Awards Banquet on April 1 at the college's Athletic and Wellness Centre, Progress Campus. It was an evening filled with excitement, school spirit and personal accomplishment with more than 200 student athletes and supporters in attendance, 23 of which will be graduating this spring.
The Colts celebrated some great achievements in the 2015-2016 season, which included a national ranking by the Men's Cross Country team to go along with their 8th place finish nationally, as well as an OCAA Provincial Bronze Medal. Both Men's and Women's Indoor Soccer teams captured the East Division titles, as well as one East Division Tournament Championship title in Ladies Singles for Badminton.
The 2016 Male Athlete of the Year was Tyler Dill from the Colts Men's Soccer Team. From his rookie year he has grown into a confident young man with direction and purpose, and his commitment to practice and games inspired others to do the same. A second-year Recreation and Leisure student with a 3.00 GPA, Dill is the leading goal scorer for the Colts Indoor Soccer team. He was also named the Men's Indoor Soccer Most Valuable Player.
Female Athlete of the Year is Sweet Marie Cunanan, who proved to be a major factor in the rebuilding of the Women's Basketball program. As the team captain Cunanan helped to lead the team on the court as the top stats leader in all categories for the team. She was awarded the OCAA Athlete of the Week last October, as well as being chosen as the 2015-2016 Women's Basketball Team MVP and Team Captain, with a 4.2 GPA in her second year of Police Foundations. Cunanan was named as an OCAA and CCAA All-Academic All Star.