QUESTIONS
P.O. Box 631 Station A
Toronto, ON, M1K 5E9
Centennial College is collecting winter coat donations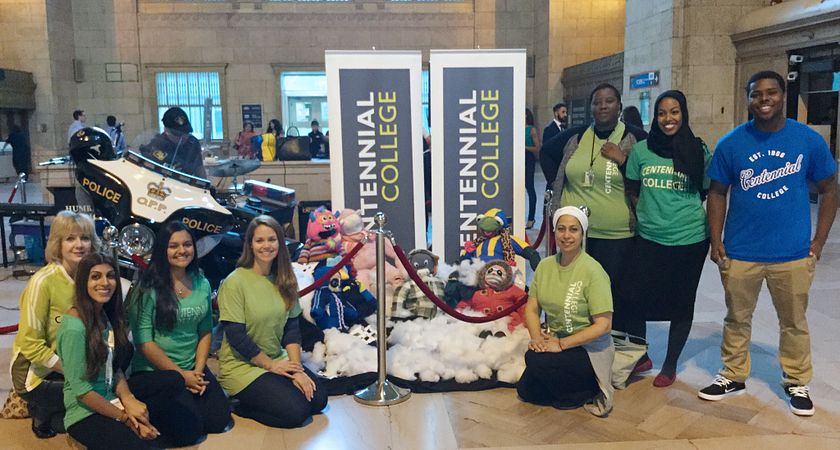 Centennial College has joined several leading Toronto organizations to help with the 2015 Winter Coat Drive on behalf of The Children's Breakfast Clubs, which aim to collect 30,000 new and gently used winter garments to distribute to children in the Greater Toronto Area. Centennial representatives, including President Ann Buller, were on hand at the campaign media launch at Toronto's Union Station on September 29.
Centennial is an enthusiastic supporter of The Children's Breakfast Clubs, which operate 24 "breakfast clubs" that provide free nutritious meals to children living in the GTA. Seeing a new need, the Clubs have increasingly been involved in collecting and distributing winter coats to families with children.
At Centennial, the initiative began with students in the college's Child and Youth Worker program who received an assignment to form a not-for-profit company to begin collecting coats for kids. They formed their companies, named them, set goals, policies/procedures, chose people for positions and began working on the task. The students embraced their assignment and accomplished a lot this past summer, collecting well over 1,500 winter items on their own. It was relatively easy to expand the project to assist The Children's Breakfast Clubs.
Centennial can make a huge impact by helping to meet or even exceed the collection goal. We will be accepting coats and/or other winter items (including mitts, scarves, hats, snowsuits, pants, etc.) until October 9 at the following campus locations:
| Campus | Room # | Contact Person |
| --- | --- | --- |
| Progress Campus | E2-11 | Ann Vasilopoulos ext. 2375 |
| Ashtonbee Campus | C-206 | Bruna Simmonds ext. 7450 |
| Story Arts Campus | 101 | Savita Sugrim ext. 8612 |
| Midland Campus | Suite 300 | Leonora Risbert ext. 7540 |
| Pickering Learning Site | C-104 | Andrew Mundy (905) 831-6077 ext. 202 |
| Residence | Front Desk | Phil Lim ext. 6291 |
| Morningside Campus | 352 | Christine Dell'Elce ext. 8069 |
| Eglinton West Site | 124 Eglinton West Site | 124 Eglinton West Sit |
Later in October, Centennial will be opening a distribution centre at the Student Residence at 940 Progress Avenue so that local families can come and collect their winter items at no cost.
Please help to support the Clubs' Winter Coat Drive - and thank you for your generous donation!