QUESTIONS
P.O. Box 631 Station A
Toronto, ON, M1K 5E9
Centennial College Progress Campus hosts SHN Vaccine Clinic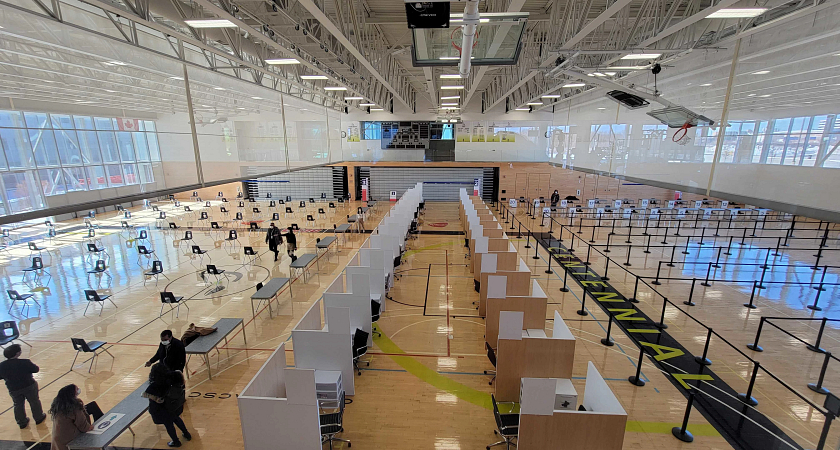 The Scarborough Health Network (SHN) has partnered with Centennial College and the Centennial College Student Association to use the Athletic and Wellness Centre at Progress Campus as a mass vaccination site for the next several months. The fully accessible indoor space is ideal to accommodate the large numbers of elderly and vulnerable local residents who require the COVID-19 vaccine. The clinic will serve 2,000 clients per day when it's fully operational.
Please be aware that SHN at Progress Campus is prioritizing vaccines for the following groups:
Staff and essential caregivers in long-term care homes, high-risk retirement homes and First Nations elder care homes.
Alternative level of care patients in hospitals who have a confirmed admission to a long-term care home, retirement home or other congregate care home for seniors.
Highest Priority health care workers, followed by Very High Priority health care workers, in accordance with the Ministry of Health's guidance on Health Care Worker Prioritization.
Homeless shelters.
Indigenous adults in higher risk communities (including on-reserve and urban communities).
The Scarborough Health Network is responsible for the operation of the Progress Campus vaccine clinic. Please do not contact Centennial College to inquire about an appointment. For updates regarding upcoming groups that will be invited to the campus vaccination site, please refer to the Scarborough COVID-19 Vaccination Clinic website.