QUESTIONS
P.O. Box 631 Station A
Toronto, ON, M1K 5E9
Centennial College pursues new education partnerships on Ontario Business Mission to Japan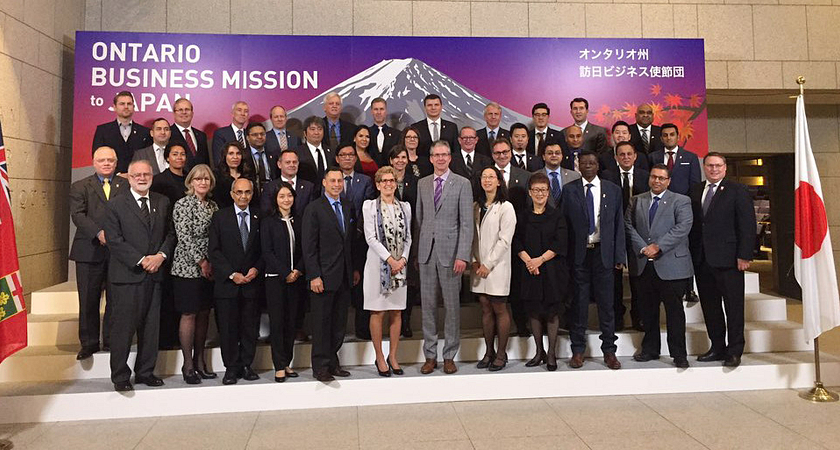 A delegation from Toronto's Centennial College is in Japan with the Ontario Business Mission to forge new relationships with post-secondary education institutions and help promote Ontario, Canada, as a destination for Japanese students who wish to gain transnational skills and rewarding experiences in globalization.
Demonstrating Japan's and Ontario's common commitment to postsecondary education, Centennial College representatives today signed memorandums of understanding (MOUs) with Kanda University and Toyo University to create broader and richer opportunities for their students and faculty through academic exchange opportunities, research collaboration, learning symposia, curriculum licensing and a variety of joint programming opportunities.
"Centennial College welcomes new partnerships with universities in Japan, and looks forward to more opportunities in the future," says Ann Buller, President and CEO of Centennial College. "Students and faculty are enriched by the experiences they enjoy in Toronto – it is unlike any other big city in the world – and it is a major destination for international learners from every corner of the globe."
Centennial College is located in Canada's largest city and the world's most diverse urban area, home to more than 230 nationalities, according to the United Nations. International students who choose to study in Toronto have the benefit of a remarkably cohesive, integrated and tolerant society.
Toronto is also a major financial capital and an ideal environment for workforce development, where business is conducted in a stable and progressive climate. Among the Japanese corporations with which Centennial College is partnered include Honda Canada Inc. and Toyota Canada Inc., which oversee modified apprenticeship programs to train their automobile technicians at the college's massive transportation campus.
Recognized as a leader in international education, Centennial received two gold awards of excellence for internationalization, bestowed by the Association of Canadian Community Colleges and the Canadian Bureau for International Education. Last week, Centennial College won an Ontario Export Award for Services. Approximately one-quarter of Ontario's international students attend Centennial College, generating about $180 million for the local economy.