QUESTIONS
P.O. Box 631 Station A
Toronto, ON, M1K 5E9
Centennial College Students Create Award-Winning Fine Art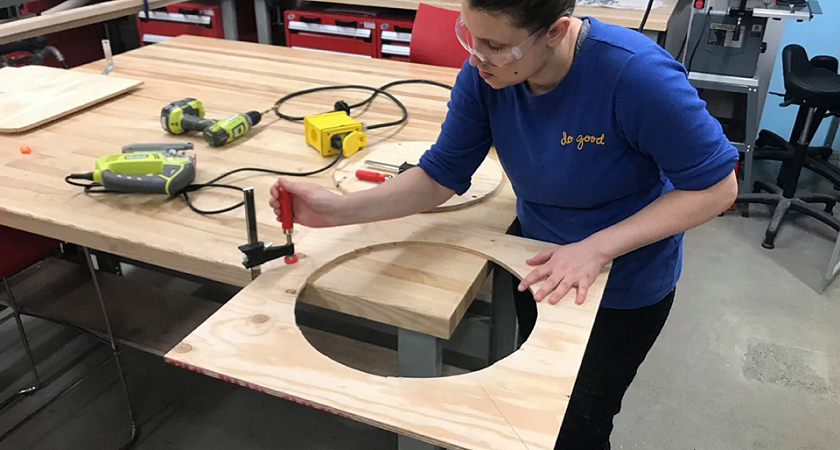 At Centennial College we're proud of the skills we help our students develop, and that includes the world of art, where our students shine with award-winning heights of talent. This was the case with two students from our Fine Arts Studio program. Anne Kim produced a painting entitled "You Are More," and Zia Foley created one called "Who Am I?" They would each go on to win at the College and Institutes Canada (CICan) Art Showcase competition in the painting and drawing categories. Their works will soon be shipped to Ottawa to be exhibited at CICan and will soon be featured on the CICan website. Here's the story of their journey to artistic success.
Why they took Fine Arts Studio
"I've always had a passion for art, ever since I was a kid," Anne says. "I didn't initially pursue it straight out of high school, but when I was thinking about what I'd really be passionate about for years to come, the thing I always came back to was art. It was always there as a hobby and creative outlet for me, so I wanted to see how I could pursue it more seriously."
"I've been doing art for most of my life," Zia says. "I've been raised around a lot of artwork. My father was an artist, my aunt is an artist, it was just something that I really liked to do as a kid, and I did it for most of my life. At some point, I realized I wanted to do it seriously."
"We had numerous studio classes where we got lots of demos on how to work with different materials, like plaster, clay and cardboard, getting hands-on experience on how to use them," Zia says about the learning in Fine Arts Studio (check her works out at ziafoley.com and on her Instagram @zia.foley). "Also, digital classes, figure drawing, it's a whole range. It's quite hands-on, and that's what drew me to the program. I really wanted to have as much studio time as possible."
"Most of our courses are studio-based, so the way they're set up lends themselves to just going into the studio and getting your hands messy," Anne says (who you can follow on Instagram @annekimse). "You walk into every class knowing you're going to be making something, which is exciting. Whether it's figure drawing, painting, or sculpture, it's very hands-on."
Creating You Are More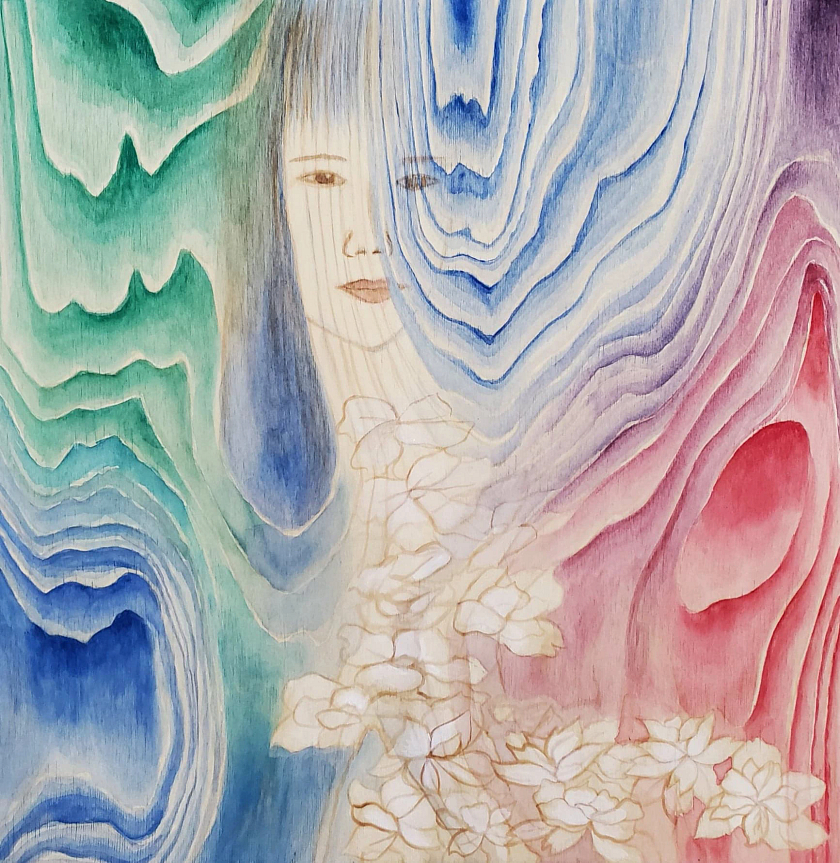 "It was for our year-end gallery show," Anne says about the creation of You Are More. "The theme for the first-year students was metamorphosis, and we could interpret that however we wanted."
"I'm interested in exploring wood textures," Anne explains, "so when we got to select the panels, I carefully looked through all of them and picked one with a grain that I liked. I then painted the patterns, following the actual grain of the wood to create the work. I didn't have a specific concept heading in, but let the piece create itself."
"I used acrylic paint but in a very watery way to show the texture of the wood underneath. I just built up the colours by layering paint around the wood patterns," she says, going into detail. "I followed the shapes, and saw a face appear, so I put a girl in there. I was thinking about what all of these layers meant, and to contrast, I left her face plain to show the exposed wood. This is meant to show that we're shaped by the things that surround us. On the painting, literally, in terms of the wood, but also in the world where our experiences and environments mould us into who we are. On the flip side, I titled the piece You Are More because despite all this, we are more than we give ourselves credit for; we are more than our current circumstances. So the title was a note to self as much as it was a message for others."
Creating Who Am I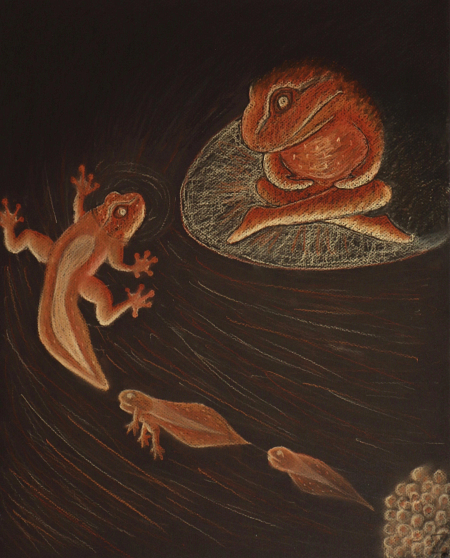 "It was an assignment for one of my classes, drawing, composition and design," Zia says about the creation of Who Am I. "The assignment was that the drawing should have some kind of transmogrification in it, something that's half one thing and half the other, and when I thought of that, the first thing I thought of was a frog, because it goes through so many stages in its life. That's always really fascinated me, so I went with the idea."
"I really wanted to explore issues of identity," she continues, "because I've grown up all over the world, I've lived in different countries and different cultures, and identity is often something that's been confusing for me, and so I wanted to reflect that, so the frog character is almost half-frog, half-human and so it's looking at the frog lifecycle at the bottom, and it's wondering how it's different, how it's the same, and how it fits into all that."
The big CICan contest
"It was an open call from colleges and institutes of Canada," Anne says about CICan's art contest. "You had to submit a photo and a short description of your art so the process was very straightforward."
"Usually the competition is something they do as part of a conference they have annually, but the conference was cancelled this year because of the coronavirus," Zia says. "You submit a photo of the work, a description, your name and your school. I did that, and then lockdown happened, and I thought it would be cancelled."
"The next thing I heard from them was that my piece had been chosen to enter the final round of the competition," she continues, "which is three or four pieces in each category, and people could look at them on their computers and then vote on which ones they liked in each category."
On their wins
"It was really exciting," Anne says about her win. "It was surprising, because I got it through email, and it felt kind of surreal. It felt like a step forward for me as an artist, and I got to represent the program. It was definitely a lot to celebrate."
"It was great, I was quite surprised," Zia says. "I was hoping to win, but I wasn't sure if I would, so I was just really happy. I think it speaks a lot to Centennial as well. I think I've really improved my skills, and refined what I was trying to express and do."
"I've packed it up, it's all covered in cardboard and bubble wrap and everything," she says about her painting, "and it's going to be picked up and taken to Ottawa by an art shipper."
"Once it gets shipped there, it'll be hung up in the CICan offices," Anne says. "All of the winning pieces in the different categories get displayed there for the year."
What's next for these artists?
"For this piece specifically, because I really enjoyed the technique and application I used, I definitely want to explore it more. I would love to create a larger body of work in the same vein, with a similar style and theme." Anne says about her future artistic plans.
"Over the summer, I'm working on some personal projects I have," Zia says. "And then I have my next year at Centennial. I'm hoping to really focus on the professional skills they give you, like how to write artist statements, how to apply for grants, how to really promote yourself as an artist, because I think that's really important, and that's another thing in our program that you don't really find at other schools."
Words of wisdom for other artists
"Just be courageous in whatever you make," Anne says. "Don't hesitate or second-guess yourself, and if you create something that's really true to who you are and you enjoy the process, that's what matters. It's easy to compare yourself to other artists but I've learned that everyone has their own style and level of skill, and that's something to celebrate, not feel intimidated by. Focus on progress, not perfection, and allow yourself to make mistakes because that's the fastest way you'll learn and grow as an artist."
"Don't give up," Zia adds. "There's been a lot of times where I've thought, maybe I'm not a good enough artist, maybe I don't have enough skills, maybe I'm too old. I'm a mature student, I've had a career before. There's a lot of self-doubt that goes along with art, and a lot of vulnerability as well, because often you're expressing your innermost feelings on a piece of paper for everyone to look at. You can't let any of that discourage you. You just have to keep working on your skills, keep refining it, and keep putting yourself out there, because if you're passionate about it and work really hard, you'll get somewhere. It just takes time."
Written By: Anthony Geremia