QUESTIONS
P.O. Box 631 Station A
Toronto, ON, M1K 5E9
Centennial College to tackle cybercrime with Lockheed Martin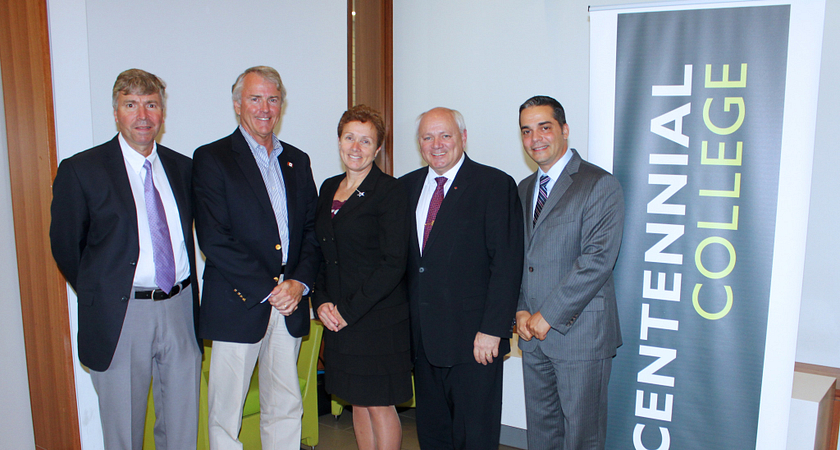 From left: Patrick Kelly, Dean, School of Engineering Technology and Applied Science; Brad Chapman, CFO and VP Business Development, Centennial College; Kate McNamara, Director Canada IS&GS Global Solutions, Lockheed Martin; Charles Bouchard, Chief Executive, Lockheed Martin Canada; and Andrew Petrou, Director, Strategic Initiatives and External Relations, Centennial College.
Centennial College is developing programming in the area of cybersecurity with support from global technology company Lockheed Martin. With a rapidly growing need by government and industry around the globe to protect computer networks and IT infrastructure, Lockheed Martin is providing funding to develop a cyber curriculum that will provide Centennial students with the necessary skills to enter the burgeoning cybersecurity sector.
Charles Bouchard, Chief Executive, Lockheed Martin Canada said: "Our Information Systems & Global Solutions business provides innovative information technology and communications technology solutions to customers in both the public and private sectors."
"All of our future success — and our nations' technological advantage — depend on highly trained, highly capable technical talent. We must inspire young people to pursue Science, Technology, Engineering and Mathematics (STEM) careers by showing them the positive impact that they make on the world. Our donation may not only help develop potential future cyber intelligence analysts, but will also help students who are just starting to build a broad base of knowledge – whatever career path they decide to take."
"Our mission is to educate students for career success," added Dr. Predrag Pešikan, Chair of Information & Communication Engineering Technology, Centennial College. "Our students, faculty, programs and services demonstrate that we value diversity and recognize the benefits that diversity can bring in the fight against cybercrime. Working with industry leaders such as Lockheed Martin in the development of programs ensures Centennial's curriculum maintains a high degree of workplace relevance, which is a tremendous benefit to both our students and employers."
Lockheed Martin Canada, headquartered in Ottawa, is the Canadian-based arm of Lockheed Martin Corporation, a global security and aerospace company. Lockheed Martin Canada specializes in the development, integration and sustainment of advanced technology systems, products and services. The company employs more than 850 employees at major facilities in Ottawa, Montreal, Dartmouth, Calgary and Victoria, working on a wide range of major programmes spanning the aerospace, defence and civil sectors.