QUESTIONS
P.O. Box 631 Station A
Toronto, ON, M1K 5E9
Centennial COLTS host 2015 OCAA Women's Basketball Championships, March 5-7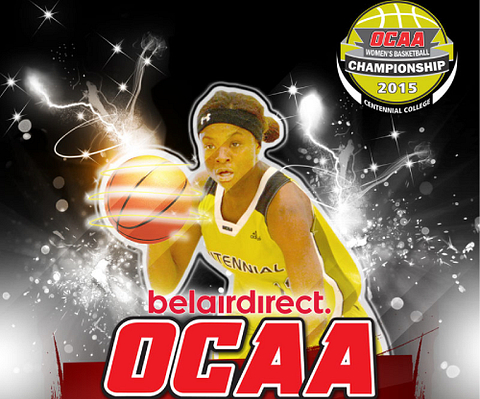 This year, the Ontario College Athletics Association has awarded Centennial College the prestigious honour of hosting the 2015 Belairdirect OCAA Women's Basketball Championship Tournament. The top eight teams in the province will compete for a gold, silver or bronze medal as they showcase their talent and compete for athletic success. Centennial's Athletics and Recreation department, in partnership with the Athletics and Wellness Centre, and the School of Communications, Media and Design are proud to put on this exciting event.
As the tournament host, the Centennial College Women's Basketball team is automatically entered in the Championship. Our Colts women's team performed exceptionally well this season, finishing third in the conference and are ranked fifth in Ontario with a record of 10 wins and four losses.
Players will showcase their individual skills, teamwork and athletic ability in the hopes of being selected by the All Star committee, who will be announcing the Player of the Game, as well as the Tournament All-Star Awards. All games will be streamed live by our Broadcast and Film students and hosted by students of Centennial's Sports Journalism program.
Centennial staff, faculty, and students can attend games by presenting their Centennial College ID cards. Games will be played at the Athletic and Wellness Centre at Progress Campus at the following times:
Round-robin games are at 1 PM, 3 PM, 6 PM and 8 PM on Thursday and Friday. Centennial's first game is on Thursday, March 5 at 6 PM.
Semi Final and Medal games will be held on Saturday, March 7. Semis are at 10 AM and noon. Bronze and Gold Medal matches will be at 5 PM and 7 PM.
Come out and support our Colts Women's Basketball Team as they strive for gold! Let's go COLTS!
For more information, please visit the Athletics and Recreation Office at the Progress AWC.