QUESTIONS
P.O. Box 631 Station A
Toronto, ON, M1K 5E9
Centennial Culinary students assist with Gold Medal event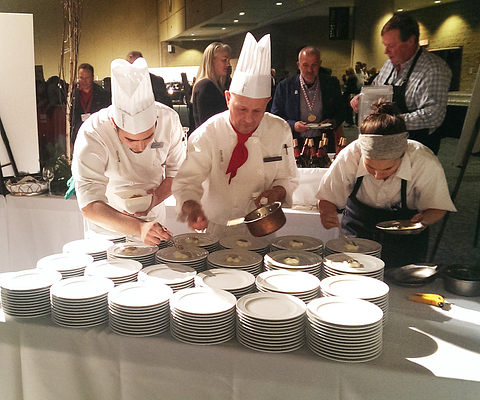 Third-semester Centennial Culinary students Michael Nakhla (left) and Kazem Khajeh (centre) help to dish out the fare at the recent Gold Medal Plates fundraising event in Toronto.
A team of more than 60 student volunteers from Centennial College's School of Hospitality, Tourism and Culinary Arts participated in the Gold Medal Plates fundraising event in support of Canada's Olympic athletes at the Metro Toronto Convention Centre on November 12. Led by faculty members Sam Glass and Terry Port, first- and third-semester culinary students assisted 10 of Toronto's top chefs in the preparation and service of more than 700 plated portions each.
Under the direction of faculty member Janice Hill, Centennial's Hospitality students were responsible for the serving of the Judge's table, while the school's Event Management students, under the direction of professor Bob Dallas, supported both live and silent auction sales, along with logistics. The evening was truly an opportunity for experiential learning for all the students involved, one in which theory comes to life - complete with all the real-world pressures and problem-solving it entails. The students and faculty were extremely well received. The event also allowed Centennial to get the college brand out at a high-profile community event.
Gold Medal Plates is the ultimate celebration of Canadian Excellence in cuisine, wine, the arts and athletic achievement. Celebrated in eleven cities across Canada, Gold Medal Plates features the premier chefs in each city in a competition to crown a gold, silver and bronze medal culinary team, and subsequently nation-wide at the Canadian Culinary Championships. The goal of Gold Medal Plates is to raise substantial funds for Canada's high-performance athletes, while celebrating Canadian excellence. Since 2004, Gold Medal Plates has received tremendous support and accolades across Canada, and has generated a net total of more than $8.2 million in funds for Canada's Olympic athletes!