QUESTIONS
P.O. Box 631 Station A
Toronto, ON, M1K 5E9
Centennial culinary students take home the gold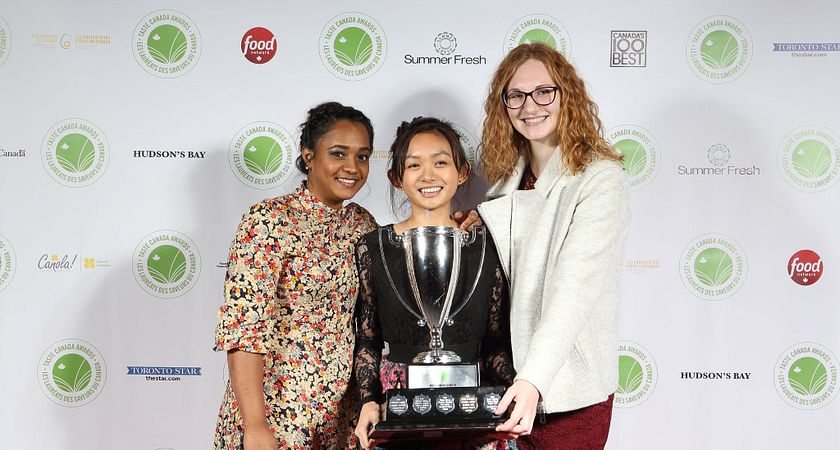 An all-female team of Centennial College culinary management students walked away with the gold medal at the Taste Canada Awards Gala at the Ritz-Carlton Toronto Hotel on October 30. Students Samantha Laval, Alexandra Zykova and Danielle Daza won first place for their dish, Seared Duck Breast with Fresh Horseradish and Sesame, taken from the award-winning cookbook Araxi: Roots to Shoots, Farm-Fresh Recipes.
The culinary competition is an integral part of the 20th anniversary Taste Canada Awards, which are the nation's only culinary writing awards. In addition to the cook-off, 24 Gold and Silver awards were handed out to authors of culinary books and food blogs. Hosted by Food Network Canada's Noah Cappe, the Taste Canada Awards celebrate food and diverse food culture as told by Canada's world-class culinary writers. This year, 147 books and blogs in both official languages were considered for awards.
"The 10 student teams were each given a cookbook from the short list of nominated books, and they had to select a recipe to reproduce for the judges," explains Chef Rory White, one of the two Centennial "coaches" who volunteered to assist the three students by practicing in college's culinary labs after hours. Full-time faculty member Chef Rene Chauvin also helped groom the team for competition.
The culinary contest, dubbed Cooks the Books, was held at Mildred's Temple Kitchen in Toronto on Sunday, October 29. Schools from Ontario and Manitoba were drawn to the event, including teams from Fanshawe College, Durham College and three teams from Liaison College, a private culinary school. The competition was presented in partnership with the Alberta Canola Producers Commission and sponsored by Summer Fresh and Ricardo Cuisine.
"Ours was the only all-female team in the competition and they really shined to win the title of Canada's Best New Student Chefs!" says White. Team members attended the gala presentation the next night to collect their award and some valuable prizes, including professional knives and KitchenAid appliances. "They brought home an awesome trophy, which we've put on display in The Local Restaurant at Progress Campus."
On the literary side, gold winners included James Walt, who wrote Araxi, and Naomi Duguid for her book, Taste of Persia: A Cook's Travels Through Armenia, Azerbaijan, Georgia, Iran, and Kurdistan. Angela Liddon won gold for her book, Oh She Glows Every Day: Quick and Simply Satisfying Plant-Based Recipes, as well as a second award for her blog OhSheGlows.com.
Cookbooks continue to be a popular and lucrative segment for book publishers. The total number of books sold in Canada in the cooking category amounted to 1.3 million in 2016 for a total value of $43 million, according to BookNet Canada.