QUESTIONS
P.O. Box 631 Station A
Toronto, ON, M1K 5E9
Centennial culinary team takes home a bronze medal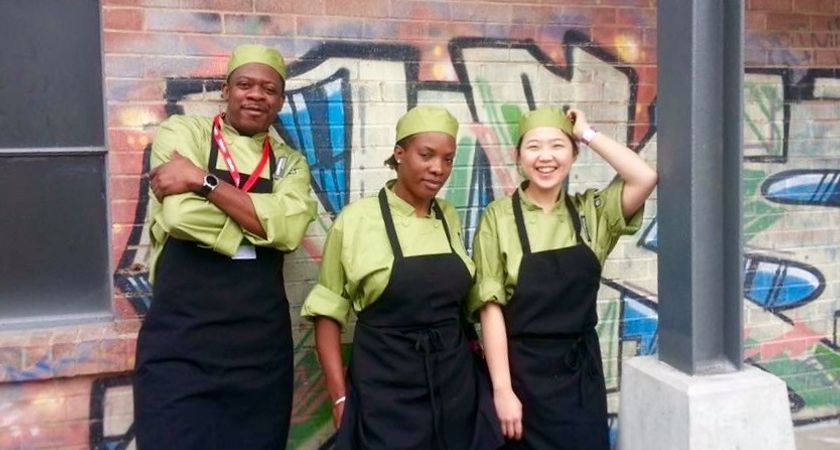 Donning their new, green culinary uniforms, Centennial College's Culinary students wore their colours loud and proud this past weekend (September 19-20) as they competed in the Taste of Canada Cooks the Books competition and took home the third-place Bronze medal for their dish Egg Drop Pho.
Taste Canada Cooks the Books brings together culinary students from across the country to compete for the title of Canada's Best New Student Chefs. The event showcases the talent of Canada's next generation of chefs, honours cookbook authors and brings some of this year's outstanding submitted cookbooks to life. Teams are paired with a Taste Canada culinary author and challenged to recreate a recipe from the author's cookbook, along with their own signature garnish.
Centennial's team, represented by Culinary Skills - Chef Training students Gregory Gooden, Bianca James and Susan Lee, was paired with Chef Matt Basile, of the food truck Fidel Gastro's and author of Street Food Diaries. From his cookbook the students faithfully recreated his recipe for Egg Drop Pho, a mouth-watering rendition of the famous Vietnamese noodle soup.
Under the tutelage of Chef Rene Chauvin, the students mastered the recipe at Centennial's Culinary Arts Centre and recreated the dish in front of a full audience gathered at the Evergreen Brick Works in Toronto with Chef Matt Basile himself.
For their efforts students Gooden, James and Lee walked off stage as Bronze Medallists of the 2015 Taste of Canada Cooks the Books culinary competition. The first-place winner was the Pius Culinary Institute of Montreal, with Toronto's George Brown College finishing second.
A special thanks to Chef Rene Chauvin, Coordinator, Culinary Skills - Chef Training, for guiding the Centennial team to a bronze win, and Chef James Smith, Chair, Culinary Arts and Baking Programs, for his unwavering support. Visit the web pages for programs offered by Centennial's School of Hospitality, Tourism and Culinary Arts.