QUESTIONS
P.O. Box 631 Station A
Toronto, ON, M1K 5E9
Centennial finalist in Ontario Export Awards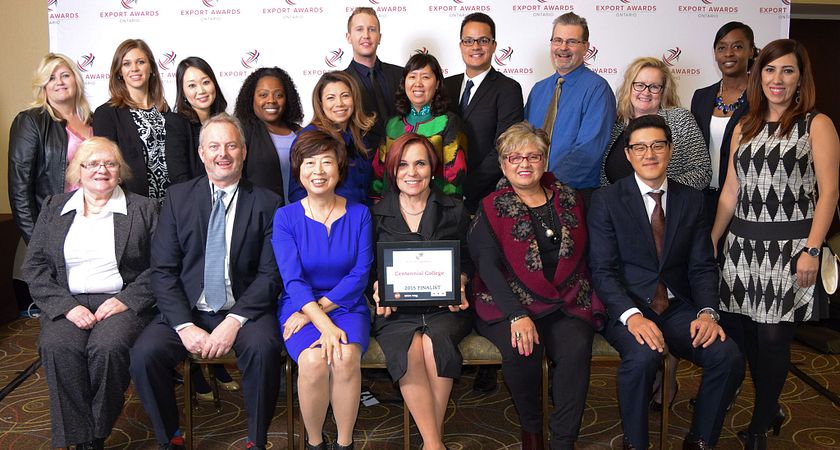 Centennial College was named as a finalist at the Ontario Export Awards in the Services division, part of the annual gala presentation that took place this year on November 24 in Toronto. The Ontario Export Awards are the province's most prestigious awards recognizing the innovative approaches and success of export-oriented companies.
Centennial was nominated for its success as a major destination for international students. For four consecutive years the college has been ranked first in the province and in Canada in the recruitment of international college students. More than 24% of Ontario's international students attend Centennial College, generating $180+ million to the local economy. Education exports to more than 130 countries make up 65% of the college's revenues, qualifying Centennial as a true service industry leader.
Centennial College's International Education department focuses on preparing transnational graduates, both incoming and outgoing. The department recruited 5,677 international graduates from more than 130 countries, and sent 4% of Centennial's domestic students abroad for service learning and global citizenship experiences related to their career studies. In addition, more than 300 domestic students provide support to international students through the college's Ambassador Program and earn credits towards their Leadership Certificate.
Centennial did not win its category, but the nomination did raise awareness of the strong activity it has cultivated in international education. Presented by CanadianManufacturing.com, the Ontario Export Awards are a division of the Canada Export Awards, which has been hosting provincial ceremonies in Alberta and British Columbia for more than a decade. Last year (2014) was the inaugural year for the awards program in Ontario and the response has been overwhelming.