QUESTIONS
P.O. Box 631 Station A
Toronto, ON, M1K 5E9
Centennial Graduate Helps Create a Winning Dynasty for Markham High School at TADA Skills Competition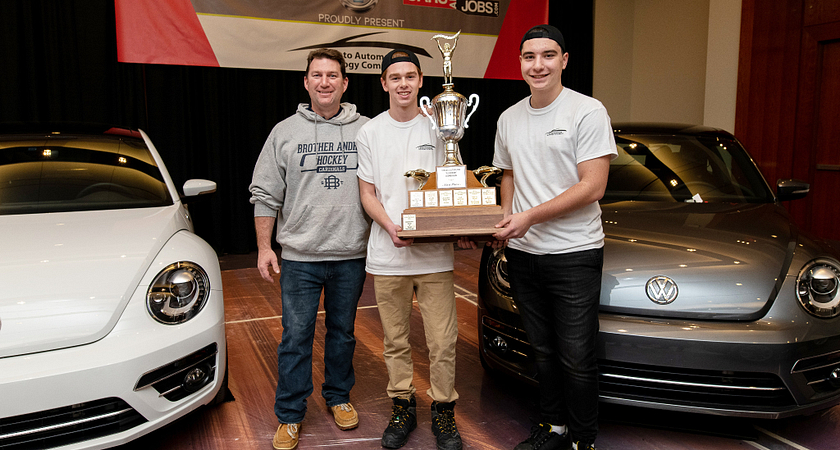 Two automotive technician students from St. Brother Andre Catholic High School prevailed over 17 other secondary school teams to win a high-octane skills competition on the eve of the Canadian International AutoShow in Toronto on February 13.
Sam Luff and Vince Servinis performed a number of timed technical tasks and worked on a new Volkswagen Beetle that had been rigged with a no-start condition by automotive instructors from Centennial College.
By finishing first, the pair will be competing with U.S. schools at the National Automotive Technology Competition in New York City in April. In addition to the all-expenses-paid trip, Luff and Servinis won tools and other gear from sponsors. The competition was presented by Centennial College and the Trillium Automobile Dealers Association (TADA), in partnership with Auto Career Start at the Metro Toronto Convention Centre.
Finishing second was another team from St. Brother Andre, made up of students Ethan Chong and Alessandro Albi. It's the third consecutive year that a team from the Markham, Ontario, school won the trophy – thanks to the coaching efforts of their teacher, Jason Rehel, who is a graduate of Centennial's well-known School of Transportation. He's been teaching at St. Brother Andre for 10 years; he previously worked as a technician at a new-car dealership.
Third place in the competition went to Konrad Lisowski and Pawel Nikolaou from Philip Pocock Catholic Secondary School in Mississauga. The automotive labs at the two schools, along with Scarborough's Jean Vanier Catholic Secondary School, which finished fourth, will each take delivery of a new vehicle for training purposes donated by General Motors Canada.
In addition to honouring the winning students, Vince Carnovale of Father Leo J. Austin Catholic Secondary School in Whitby earned the Gerd Reisenecker Memorial Teacher of the Year Award, which is named for the former Centennial College professor and TADA member.
The 20th annual Toronto Automotive Technology Competition receives outstanding support from the industry. Sponsors include TADA, Auto Career Start, the Canadian International AutoShow, Volkswagen Canada and Toronto-area VW dealers, General Motors Canada, Snap-On Tools, Consulab, Canadian Tire, Prona Tools, Electude-Argo, Nelson Education and Centennial College.