QUESTIONS
P.O. Box 631 Station A
Toronto, ON, M1K 5E9
Centennial helps young business people make the shoe fit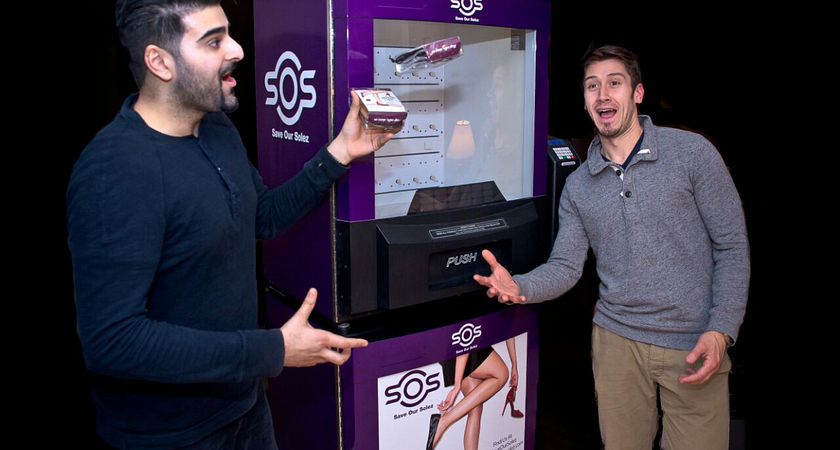 Centennial College doesn't just teach skills. It also enables students with ideas to develop them, and make them into reality. Such is the case with Andrew Palillo and Sameer Vadera, a pair of School of Business graduates who are launching Save our Solez.
Save our Solez aims to fill a unique niche: After a long night of partying at a nightclub, women have a tendency to ditch their heels and go barefoot. Seeing a need, the pair is creating a series of vending machines to be placed outside nightclubs that sell comfortable flats to whoever may need them, perfect for wearing on the walk home. Centennial College's School of Business proved to be the place where the seeds of this idea were allowed to grow, and led to the success of the pair's business venture
Origins
For Andrew, business was a natural extension of his background in the workforce. "I was working for Direct Energy," he explains, "and I was doing door to door sales. They put me in a management role pretty quickly, where I built up a team of about eight guys. After that, I understood the business side of things, like running a team and management. That's when I decided I should get some education, and that's why I came to Centennial."
For Sameer, it was simply a matter of enjoying the profession. "Things are always changing, and you have to adapt on the spot, and that's quite fun. I saw that Centennial had a really good marketing program, and it was close to home, so I chose Centennial for that reason."
"Centennial was pretty well known for their business programs," Andrew also says. "I asked around, and that's what most of my family and friends were saying, that Centennial's business programs were really good. That's what pushed me there."
The idea
We party a lot," Sameer admits, "and we go to the clubs often, so we know what will stand out in the crowd and what will look nice." It was in these nightclubs that the pair first noticed the problem of women leaving the club barefoot, having discarded their high-heeled shoes out of discomfort.
"The general idea of selling the flats in night clubs, that was the idea," Andrew says, an idea he came up with the summer before he came to Centennial.
"It just became me starting to ask people," he continues, "if they sold them, would you buy them? After hearing that, I thought this was something I had to keep running with. It's an idea that's been on the back burner since then."
Centennial Helps
While in his International Business Management program, Andrew was tasked with creating a business plan for one of his classes. This provided him with the opportunity to develop the idea in a setting that gave him the tools to learn now.
"There was a project to build a full business plan," he explains, "from finding suppliers, to what your promotions are going to be. We were just throwing ideas out at each other, and we didn't have one that we wanted to run with. So I proposed my idea, because I'd been thinking of it for awhile. We decided to go with it, and the project went well."
In the end, the chance to make the business plan would prove instrumental when the business became a reality. "Getting that solid groundwork done for our business was really huge in letting us move forward with the company," Sameer says, "and figuring out what our next steps needed to be."
There were other opportunities that Centennial gave the pair, and Sameer, who studied marketing, is particularly proud of his participation in the Ontario College Marketing Competition (OCMC), an annual event where marketing students compete against other schools to devise business solutions on the fly. "Any students in Centennial that are doing business or marketing should definitely get into the OCMC," Sameer recommends. "I think that was one of the best experiences of my life, actually."
"It brings what you learn in class to real-life and puts you in real-life scenarios," he continues, "so what you're learning in the book can be put into action in real life right away on the spot."
Partners
Andrew took the idea, then brought it to me," Sameer explains post-Centennial, "because he needed help finding a manufacturer and stuff like that, which I had a lot of contacts with. So we partnered up, and took it from there."
Each of them praises the other, seeing the partnership as natural. "Andrew's one of my best friends," Sameer says. "We both went to high school together, we went to Centennial together, we've known each other for the last ten years. He brings a lot to the table that I might not, but then I have other things I bring to the table that he might not have, so it's a good partnership we have."
"I bring a lot of connections that have helped us get the ball rolling on manufacturing, graphic design, and printing," he continues. "I also had some help from an uncle who orders clothing and shoes from overseas and gets them manufactured, so he helped us a lot on the way to get that done."
"Sameer is one of my close friends," Andrew says back. "I knew that he was the motivated type. I knew he had the entrepreneurial spirit in him as well."
"I have a very strong sales and marketing background," Andrew he says of his own abilities. "I'm not afraid to approach anybody. I did door to door sales, so I know what rejection is, and I'm not afraid to knock on 100 club owner's doors to get that one who's going to take that product."
The future
"Right now," Sameer details, "we're starting our first machine on February 28, at a nightclub called SETonKing. We have a ladies night that we've sponsored to get a buzz going, and have a little grand opening. Our goal is to have five machines up and running in Toronto nightclubs by the end of the month, and ten machines around the city by the end of the year."
And after that? "We want to expand into trade shows, weddings, train stations, and event centres," Sameer continues. "Places where people dress up and do a lot of walking and are maybe wearing the wrong shoes. Maybe we can fix that problem for them where they are."
Andrew talks even bigger about the future of Save our Solez, about international expansion. "We're going to start in Toronto," he boasts, "and then we're going to head outside of the GTA, to the busier places in Ontario, like Hamilton and Ottawa. We have friends out in Calgary who love the product and want to get it out there. We have a couple friends in the US that would be the next step after that. Then, Sameer has family in Europe, and Istanbul who are actually club promoters."
Advice
When asked what advice they'd give to current students, both stress making use of Centennial's resources to create a solid foundation of knowledge.
"Gather as much information as you can," Sameer says, "and definitely learn from other people's mistakes. If someone's made that mistake, there's no reason for you to make that mistake as well, so do your research to find the mistakes, and save yourself some money or time."
Andrew concurs with this, and mentions how they'd initially had trouble importing resources, because "We just went with somebody who was referred to us, and we could have gone and pitched a few more manufacturers." In other words, question everything, and do the research.
Inspiration
"We put a lot of hard work into it," Sameer says of Save our Solez. "We wanted to make a product that people would like and enjoy. Not just a product that would sell, but a product that would give a lot of help. Hard work does pay off."
"Don't let the idea slip away," Andrew says as his own advice. "It was an idea for so long, but I never thought it was a bad idea, and that's why after three or four years of it just being an idea in a business class, it's a product now that's ready to be sold. Stay motivated, and believe in the ability to do something."