QUESTIONS
P.O. Box 631 Station A
Toronto, ON, M1K 5E9
Centennial hosts ESL partners from Panama, the U.S. and U.K.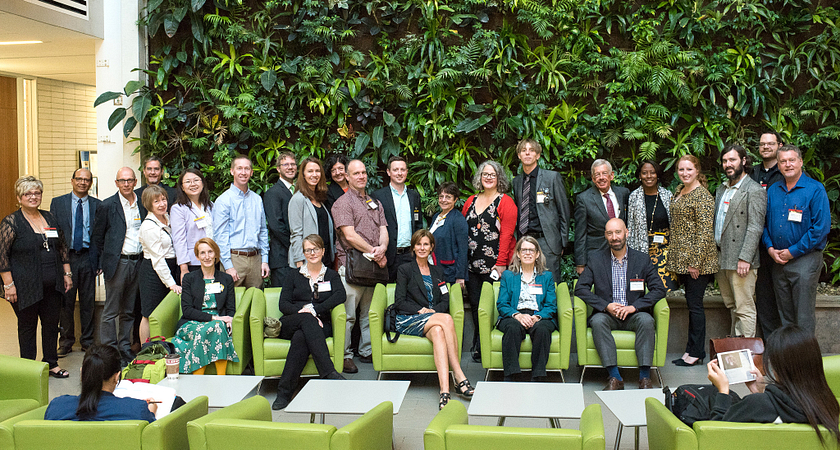 Some 70 representatives from 33 partner institutions in the United States, the United Kingdom and Canada attended the Panama Bilingual International Conference hosted by Centennial College on October 10 and 11 to discuss their roles in helping the Central American nation develop their workforce through participation in the Panamá Bilingüe program.
The project, endorsed by Panama President Juan Carlos Varela Rodriguez, will see as many as 10,000 professors from Panama study in Canada, the U.S. and U.K with the goal of becoming fluent in English as a second language. Some of the participants will acquire the skills to teach English to others. Panamá Bilingüe is part of an economic strategy to make English commonplace in Panama, predicated on the notion that knowing the language is a necessary skill to advance in a global economy.
Centennial was chosen as the first college in Canada to receive students and has become an integral part of the project as the lead educational institution for Canada. The college received its first group of Panama Bilingual students sponsored by the government of Panama in January 2015, while the sixth group to study English Language Learning and Teaching English as a Foreign Language (TEFL) programs graduated from Centennial this past March.
Melida Renkwitz is Centennial's Manager for International Office projects, and oversees recruitment of international students from Latin America, Western Europe, Africa and the U.S. She was responsible for bringing Panamá Bilingüe to Canada and Centennial College.
"I have been negotiating international business in Panama for more than 17 years," says Renkwitz. "As a result I have a lot of business relationships with many organizations and educational institutions, which allowed me to bring the project to Canada."
Centennial College is well known in Panama, having opened an international office there in 2012. In fact the Consul General of Panama, who addressed the conference attendees, is Maryorie Y. Bravo – a Centennial College graduate herself. Bravo studied English and business at Centennial before returning home. "When I went back to Panama I also did diplomatic training," she explains. "The President decided to send me to Toronto because I knew the city and I had studied international relations."
In addition to separate funding for Panamanian students selected to study at Centennial through the Panama Bilingual program, Centennial College has been approved by the IFARHU Government of Panama Scholarships to receive 35 students for English Language Learning in 2018. The IFARHU scholarships are intended to meet the training needs of professional Panamanians in the areas of science, technology, research, economics, law, finance and other disciplines.
"You find professors here that teach you how to grow up as a person and as a professional," says Carlos Peréz, TEFL Management Graduate of Centennial College. "This world needs people like the ones we found at Centennial College that make you believe in yourself and help you to raise your self-esteem."
The Panama Bilingual International Conference included a campus tour, presentations from participating institutions and from the Panamá Bilingüe program, as well as a world-class reception at The Globe and Mail Centre in downtown Toronto on October 10. The second day included a half-day conference and lunch at Centennial's Event Centre at Progress Campus, followed by a bus trip to Niagara Falls. Some of the partner schools include Michigan State University, Georgia Tech, Georgetown University, Edinburgh College and Leeds Beckett University, among many others.