QUESTIONS
P.O. Box 631 Station A
Toronto, ON, M1K 5E9
Centennial leads GTA colleges in student and employer satisfaction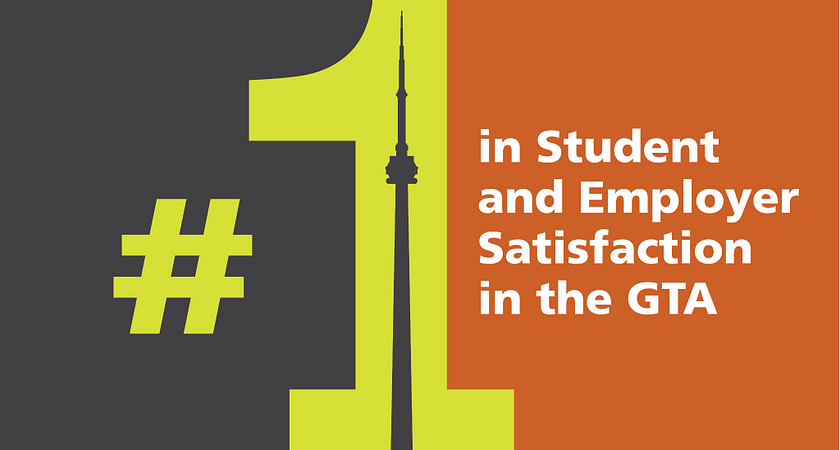 Centennial College has made some remarkable gains in key satisfaction measures as part of a comprehensive survey of college students, graduates and their employers this year. In fact, Centennial now leads the six Greater Toronto Area (GTA) colleges in student and employer satisfaction.
The numbers are revealed in the 2016 Key Performance Indicator (KPI) surveys, which are conducted annually on behalf of Ontario's publicly funded colleges, a government-mandated performance measure that helps allocate resources and plan for growth.
Centennial's overall Student Satisfaction rate - the average of four "capstone" questions - increased for the fifth consecutive year and reached 77%. This is an improvement of 1.7% over last year, and an increase of 10.1% since 2011. As a result Centennial is first in student satisfaction among Toronto's public colleges. The individual capstone questions reveal more good news:
The percentage of students who indicated that they were "satisfied" or "very satisfied" with the "knowledge and skills" imparted by their program increased by 0.4% to 86.6%;
Students who indicated that they were "satisfied" or "very satisfied" with the "overall quality of the learning experience" in their program increased by 1.1% to 79.6%;
Students' satisfaction with "quality of facilities/resources" grew by 2.6% to 76.4%;
Students' satisfaction with "quality of services" increased by 3.1% to 65.6%.
The results can be attributed to the extraordinary work taking place in Centennial's classrooms, where updated curriculum and new approaches to teaching and learning strengthened the student experience; they reflect the work of committed service teams whose work engage students, and they reflect the improvements made to the physical environment at each of our campuses.
The Employer Satisfaction rate increased significantly by 8.8% among employers that have hired Centennial College graduates. At 94.8% it is higher than the provincial average and it is the highest Employer Satisfaction rate among GTA colleges. Our Graduate Satisfaction rate improved by 3% to 77.8%, a result on par with other Toronto colleges.
Centennial College continues to work hard to improve the employment prospects of our graduates by executing strategies identified by the Graduate Employment Task Force. Some of the concrete actions being implemented to assist our diverse graduate population include:
Working more closely with key employers and industry leaders, convening our Circle of Champions and launching sector-specific councils; we're also involved in the Scarborough Revitalization Initiative with the Rotary Clubs.
Fourteen programs completed a comprehensive program review.
Program Advisory Committees (PACs) are being revitalized, bringing more employers to Centennial to share their insights and their needs.
We've updated career planning and job search materials, and revisited our co-op education curriculum to be more responsive to both students and employers.
We increased partnerships between Career Services and the college's Schools, hosting industry and community events to offer more opportunities to form connections.
We've expanded our English as Second Language training and provided more opportunities for students to practice their English language skills.
We've increased our capacity to provide additional career services, including more mock job interviews, 'Coffee & Company' Networking Week to introduce students to employers, and more resume writing workshops.
Broadening our dialogue with employers is fundamental to telling our Centennial College story and those of our remarkable students. They are motivated to do meaningful work and lead meaningful lives by contributing to the economic growth of Toronto and the province.
Our profound thanks to our faculty and staff for providing our students with the engaging and challenging learning experiences that ignite their passion and change their lives. We've managed to move the needle, and continue to learn much from our KPI survey results.