QUESTIONS
P.O. Box 631 Station A
Toronto, ON, M1K 5E9
Centennial marks Canada-China Year of Tourism by sending students to Suzhou, China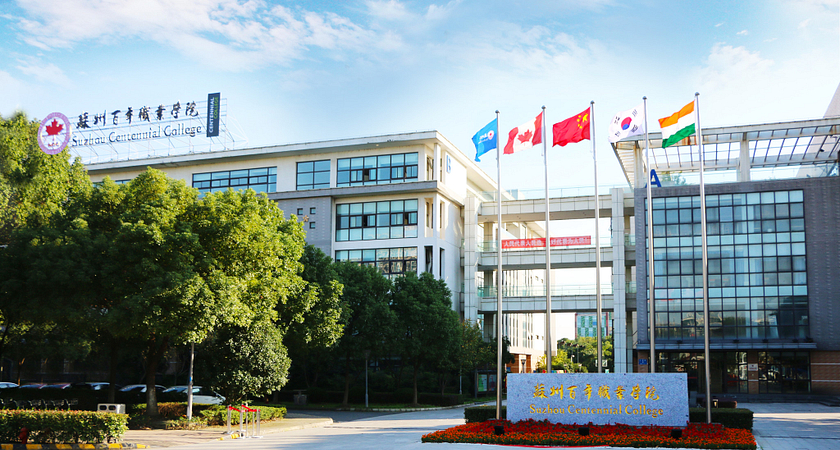 Centennial College's School of Hospitality, Tourism and Culinary Arts is leading a unique travel and learning experience to China to help mark 2018 as the Canada-China Year of Tourism.
The trip will give 12 selected Centennial students first-hand exposure to China's food, hospitality, and tourism industries to help them prepare professionally for the continued surge of inbound visitors to Canada from China – considered to be the world's largest tourism source market and greatest spenders in international tourism.
Centennial professor Michael Bertuzzi and chef technician Monzur Islam will lead the trip, known as a Faculty Led International Program (FLIP), beginning April 30. It includes 10 days in and around the Suzhou Centennial College campus near Shanghai, China, with highlights including:
Multi-day hands-on instruction in Chinese culinary culture, theory, and techniques preparing a variety of regional dishes.
Field study of Chinese culinary, hospitality and tourism industries through educational touring and partner site visits in Suzhou and Shanghai.
Food & Beverage and Hotel Operations work experience in a hotel setting.
Production of a collaborative cultural and culinary event with students from Suzhou, as well as local business and government leaders.
"What makes an education in tourism from our college unique is the access students have to the global learning environment," says Suzanne Caskie, Chair of Food and Tourism Studies at Centennial. "With our campus in Suzhou and our incredible team of internationally trained and experienced faculty and staff, our students are just as prepared for tourism careers locally as they are internationally. When blended together, international food and tourism can create inspiring learning experiences."
Prime Minister Justin Trudeau and Chinese Premier Li Keqiang officially declared 2018 the Canada-China Year of Tourism in September 2016. Some 610,000 Chinese tourists visited Canada that year and spent $1.5 billion, or an average of $2,438 per visitor. China is now Canada's third-largest tourism source market behind the United States and the United Kingdom.
"The 2018 Canada-China Year of Tourism represents a unique opportunity to further grow the numbers of Chinese tourists coming to Canada," says the Honourable Bardish Chagger, Leader of the Government in the House of Commons and Minister of Small Business and Tourism. "Centennial College has had a long-standing relationship with China and is once again demonstrating that the true sustainability of this relationship is enhanced through shared cultural and educational experiences. Through this great opportunity, the students will gain valuable experience as we prepare for the arrival of more Chinese travelers."
Centennial College has grown a reputation for extensive partnership building since it was established in Toronto in 1966. The Suzhou Centennial College learning site is helping to build new international partnerships. "We see this campus as an opportunity for students to learn about how business is done in the east," says Virginia Macchiavello, Executive Director, International Education at Centennial College.
Suzhou Centennial College is the first Canadian college approved to operate in China by the Ministry of Education and by the Ministry of Education, Jiangsu Provincial Government. High-quality Canadian education programs delivered at Suzhou Centennial College offer ministry recognized Ontario College credentials from the Centennial College Business School, School of Engineering Technology and Applied Science, and School of Hospitality, Tourism, and Culinary Arts.
The groundbreaking partnership is reciprocal, offering opportunities for Canadian students to take a semester of their program in China. The Suzhou learning site offers Centennial students the ability to internationalize their education through a semester exchange, internship or Faculty Led International Program. While all Centennial programs are delivered in English, students can take optional Mandarin language and culture courses at SCC during their semester in China.
For more information: www.centennialcollege.ca/Suzhou