QUESTIONS
P.O. Box 631 Station A
Toronto, ON, M1K 5E9
Centennial named first test centre for PTE Academic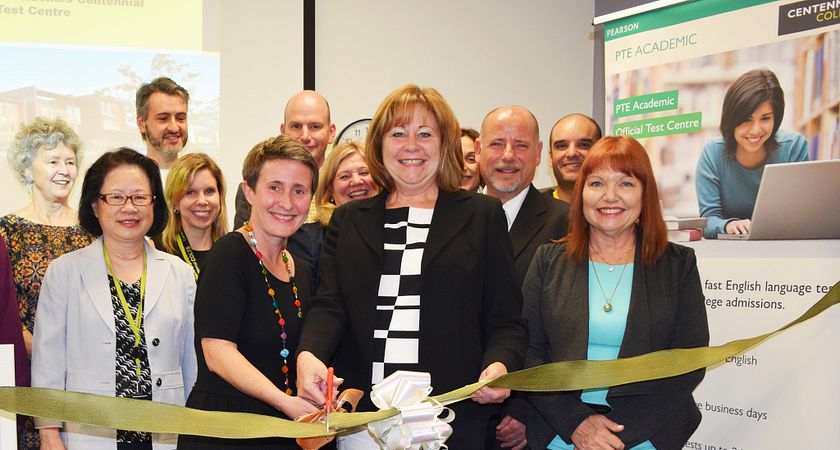 Pearson, the world leader in educational publishing, has selected Centennial College as the site of its first North American test centre for PTE Academic, the leading computer-based English language proficiency test used for study abroad.
Representatives from Pearson and Centennial, led by Emma Stubbs, Senior Vice-President of Pearson Language Testing and Centennial College Vice President Academic Sandra Murphy, gathered at the Assessment Centre at Progress Campus to cut the ribbon to the college's specially equipped language testing lab on September 23.
Pearson developed PTE Academic in response to feedback from higher education institutions to meet the need for an English language test that more accurately measures the communication skills of international students in an academic environment. Launched in 2009, PTE Academic is the fastest-growing English test on the market, having been adopted in the U.S., U.K., Canada, Australia and New Zealand. Its benefits include:
PTE Academic is a fair test: Highly accurate computer marking means consistent scores and no potential for examiner bias.

PTE Academic is secure: Palm-vein scanning, randomized test forms and data forensics ensure universities know your test score is really yours, and mean that your score is safe.

PTE Academic tests real-life language: Prepare for life abroad as you listen to university lectures and respond to questions about life on campus with our real-life test of academic English.

PTE Academic is unlimited: You can send your scores to as many institutions as you choose - there are no additional fees for extra score reports.
PTE Academic assesses listening, reading, speaking and writing all via computer in a single three-hour test session. To complete the PTE Academic test at Centennial's Assessment Centre, candidates use a computer and headset to listen to, read and respond to questions. There are twenty different question formats, ranging from multiple choice through to essay writing and interpreting information.
PTE Academic assesses real-life, academic content, so test subjects will hear excerpts from lectures and view graphs and charts. They will hear a range of accents in the test, from British and American to non-native speakers, so they will be exposed to different types of accents encountered in everyday life.
PTE Academic was created after years of research by some of the world's leading experts in language assessment. Pearson's advisory group created the Global Scale of English, which builds upon the Common European Framework and helps to show greater levels of progression for English learners. PTE Academic employs a layered approach to security, incorporating innovative test design and delivery, advanced identity management, secure proctored delivery, automatic results validation and data forensics.
Centennial's Assessment Centre at Progress Campus has begun administering the PTE-A. For more details, please contact the Assessment Centre at 416-289-5000, ext. 2598, or email assessmentcentre@centennialcollege.ca.