QUESTIONS
P.O. Box 631 Station A
Toronto, ON, M1K 5E9
Centennial prof and student wrench at Targa Newfoundland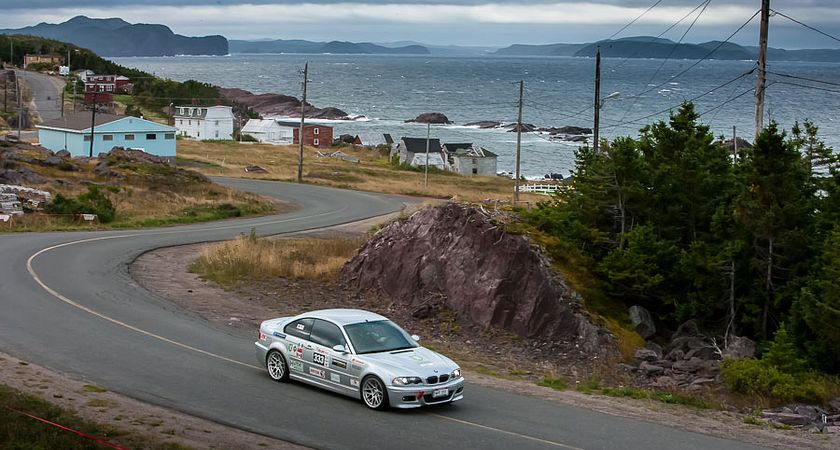 With a lot of hard work and scraped knuckles, Scarborough's Hume Media racing team enjoyed a very successful campaign at Targa Newfoundland this September – thanks, in part, to the technical skills of Centennial College professor Garrett Nalepka and student Alex Walsh, who toiled to keep the team's BMWs and Minis running during the grueling five-day race.
When the dust settled and the 14th annual auto rally around the island concluded, Hume's team cars finished second, second and third in their respective divisions. Team honcho John Hume Sr. and co-driver Ron Bartleet managed a fifth-place finish in the Modern class with the fourth car. The three podium finishes earned Hume Media the Jerry Churchill Team Trophy for the best outcome by a team.
Punctuated by driving rain, wind, cold and just a glimpse of sun, the rally began and finished in the city of St. John's, involving 1,600 km of paved and gravel roads and 40 high-speed stages. Typically almost one-third of the vehicles that start the race do not finish due to mechanical failure. Having skilled technicians on hand is key to completing the race. That's where Centennial's automotive experts came in.
"We had more than a few technical and mechanical items with all four vehicles to keep them well occupied all week," says Hume Sr. of the professor and student who put in long hours to maintain the cars. "They kept us in the race to be sure. And they assisted other teams, as well," Hume adds.
Garrett is a professor at Centennial's School of Transportation, and has experience supporting a Dodge Viper racing team in the World Challenge B Series. This is his second time wrenching at Targa Newfoundland – he assisted Hume Media during their best podium finish ever last year. Garrett was joined by Chrysler Co-op automotive tech student Alex Walsh this year, who was equally keen to get some rally experience.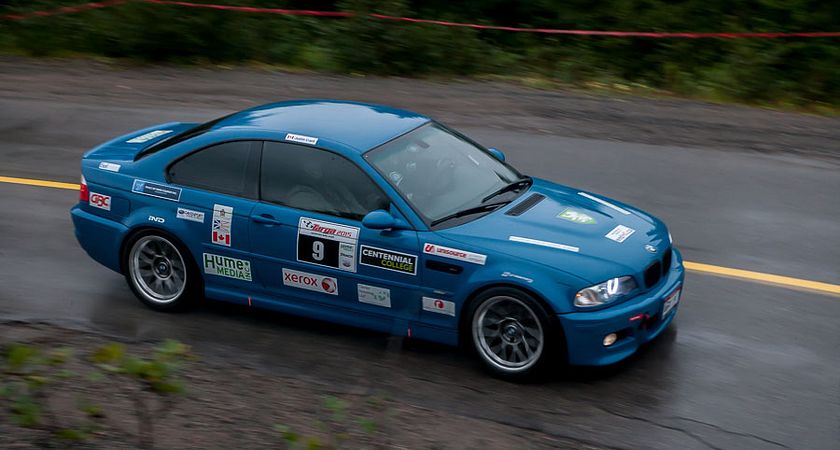 "There are some very challenging competitors this year and our team had to push the two Targa division cars much harder than we would like to," says Garrett, who admits the early morning starts and late night repairs made for a exhausting routine. "The vehicles have four to six rallies a day and must travel the week's required 1,500 km transit from rally to rally. We cannot use a trailer."
Typical fixes involved suspension adjustments and repairs. The team's Minis had to be raised on their suspensions to minimize damage on Newfoundland's rough roads. A lot of repairs were done after hours in hockey arenas set up as makeshift garages. Garrett and Alex had to fabricate parts often with hand tools, relying on some inventiveness as well as technical knowledge.
In the end, skill and perseverance prevailed and the Hume Team cars – which bore Centennial College logos – crossed the finish line with excellent scores. The team also managed to raise $19,000 towards multiple sclerosis (MS) research from generous donors – a great outcome that amounts to a win for everyone.
Final standings for Hume Media Racing
John Hume Jr. and Justin Crant driving a 2004 BMW M3 – 2nd in Modern class
Craig MacMullen and Nicole Troster driving a 2013 MINI GP – 2nd in GTE class
Norm Haas and Christina Kroner driving a 2006 MINI GP – 3rd in GTE class
John Hume Sr. and Ron Bartleet driving a 2002 BMW M3 – 5th in Modern class