QUESTIONS
P.O. Box 631 Station A
Toronto, ON, M1K 5E9
Centennial ranked among Canada's Top 50 Research Colleges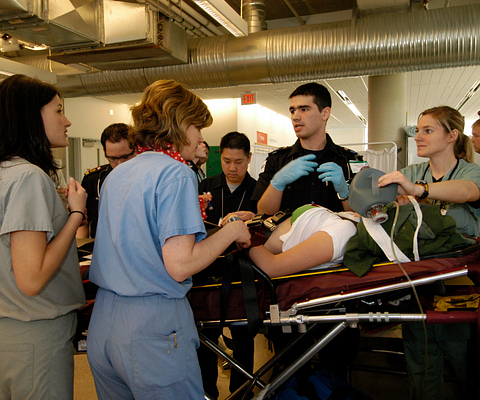 Centennial's ARIC and the School of Community and Health Studies jointly organize a mock disaster exercise every year to test the emergency preparedness of Toronto hospitals and first responders.
Centennial College's Applied Research and Innovation Centre (ARIC) is ranked among Canada's Top 50 Research Colleges again this year, solidifying Centennial's reputation as a go-to partner to help businesses commercialize their new products and services. ARIC has been connecting industry partners with research-oriented faculty and students through joint projects since 2004.
According to Research Infosource Inc., applied research between colleges and businesses is enjoying welcome growth in Canada. In total, the 16 Ontario colleges on the Top 50 list attracted $48.1 million of research income in 2013, a 37.2 per cent gain over the 2012 results and significantly above the 30.8 per cent national growth rate. In total, 14 of 16 Ontario colleges posted growth in research activity, including Centennial, which reported $3.94 million in research income.
"Fiscal 2013 was a solid year for Ontario's colleges," said Ron Freedman, CEO of Research Infosource Inc. "These are still early days for college research, and for this reason, we expect to see a high level of annual variability in research funding." Canada's 50 leading research colleges posted a record total of $152.8 million of research income in 2013.
ARIC collaborates with small and medium-sized enterprises (SMEs) in Ontario that require support for developing or enhancing new products or processes. ARIC provides these SMEs with access to Centennial's facilities, laboratories and other resources. More importantly, ARIC connects them with human resources in the form of students, who acquire relevant career experience and contacts through their participation. Employers, students and faculty work together to create, develop and launch market-ready solutions to assist both new and established enterprises.
ARIC's areas of expertise include health sciences, information and communications technologies, and environmental science. The scope of the projects can be broad, including sustainable energy, children's media, aviation and aerospace, business and entrepreneurship, and just about everything in between. ARIC has a history of success with its projects, and the Applied Research and Innovation Blog outlines some of the good-news stories.
By partnering with local businesses, Centennial stimulates economic development. It connects SMEs to students with energy and ideas, and provides them with a source of talented employees. Students gain a direct line to work experience, networking and employment. They get to see what the workplace is really like in a way a class can't teach, and apply what they learned in class to the real world. Centennial has enjoyed success and recognition as a crucial participant in Ontario's applied research programs, and will continue to do so as part of its mission and values.