QUESTIONS
P.O. Box 631 Station A
Toronto, ON, M1K 5E9
Centennial receives special 50th anniversary funds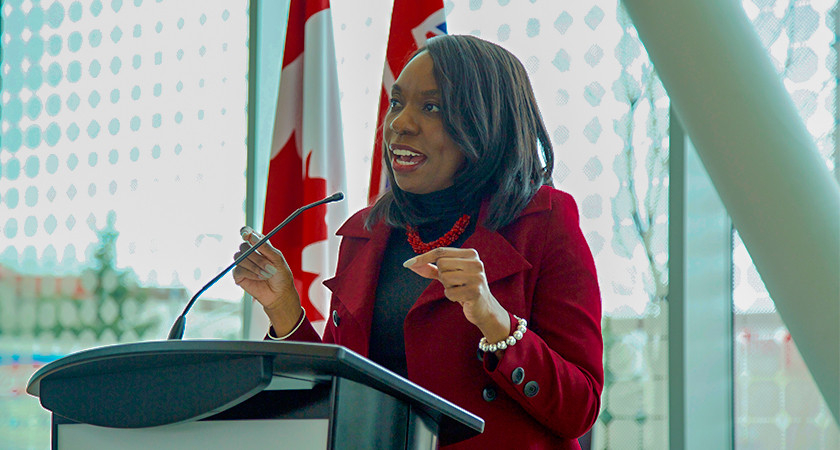 The Honourable Mitzie Hunter, MPP for Scarborough-Guildwood, came to Centennial College's Ashtonbee Campus on April 7 to announce a special investment of $2,250,400 to help the college deliver high-quality education that will give students the skills they need for the jobs of tomorrow.
The announcement was part of the government's "50 for 50" investment in celebration of the 50th anniversary of Ontario's college system. The provincial government is dividing a special one-time investment of $50 million among its 24 public colleges to help enhance the student experience. The funding is intended to be used for new technology, lab equipment and learning spaces.
"This investment will provide students at Centennial College with state-of-the-art materials including specialized software for teaching, new lab and shop equipment and technology to modernize existing classrooms and labs, that will ensure they have the right skills for a knowledge and technology-driven economy," Mitzie Hunter told the 100 students and staff who had gathered at the campus hub to hear the announcement.
While the Ontario college system turned 50 years young in 2017, Centennial College President Ann Buller reminded Minister Hunter that Centennial is turning 51, since its opening in the fall of 1966 preceded the college system by almost a full year. She noted the first Centennial students were so thrilled that they marched on Queen's Park, not to protest, but to thank then-Education Minister Bill Davis for their new education option.
"We're delighted to receive this special investment to help enhance our learning environment at Centennial," President Buller told the gathering. "This new capital will allow us to develop a renewable energy 'micro grid' that will connect the college's clean energy assets, including our solar-powered electric vehicle recharging station. It's a unique project that will give us a stake in an emerging technology for our students to work on."
The special funding announcement was made as part of the annual Colleges Week, when the Ontario colleges interact with the Legislature in Queen's Park to highlight the value of the public college system. The special $50-million investment will help colleges prepare more graduates for rewarding careers in the innovation economy. About 220,000 full-time students are enrolled at Ontario's 24 public colleges.