QUESTIONS
P.O. Box 631 Station A
Toronto, ON, M1K 5E9
Centennial repeats National Engineering Month Student Challenge win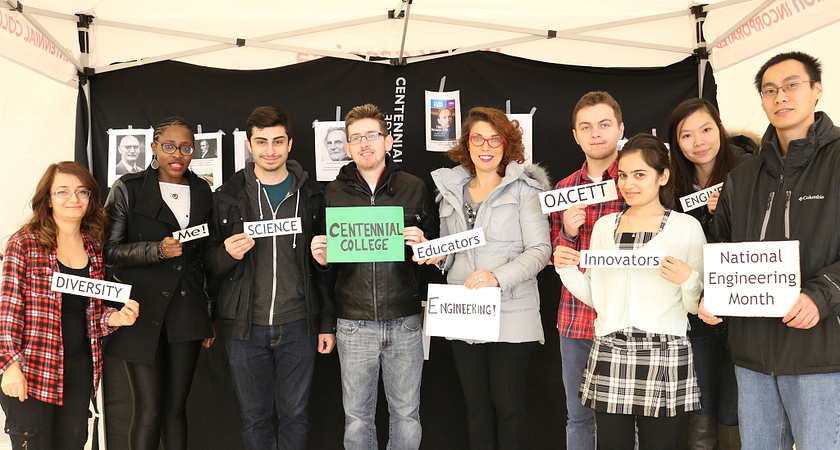 The Centennial College student team of Emanuel Amaral, Marthe Angama, Manthan Patel, Genevieve Robinson and Daniel Soerensen won the National Engineering Month (NEM) Ontario College Student Challenge 2016 – the second consecutive year the Toronto college bested all comers in the multifaceted competition.
The Centennial team took top ranking in a contest that challenged engineering technology students to put on events and activities tied to NEM's theme "There Is A Place For You," and had them competing against one another for a $2,500 cash prize and complimentary student memberships. National Engineering Month is funded by the Ontario Association of Certified Engineering Technicians and Technologists (OACETT) and supported by the association's local chapters.
The winning team's event, "Science and Engineering: Facing the Future," featured TEDx-style talks about interesting and relevant technical topics, a series of exhibits from companies, a number of research projects and other interactive elements such as a photo booth and scavenger hunt.
More than 350 high school students and people from the engineering technology community attended the all-day event on March 23 and were engaged in biotechnology, food science, robotics, mechanical and software engineering inventions and happenings that are truly revolutionizing the way humans do things and live their lives.
Each year, the Student Challenge teams become more creative, innovative and insightful in their ideas and event execution, creating more engagement and deeper discussions for a growing audience. The Challenge is designed to inspire children, teens and adults to pursue careers in engineering technology by demonstrating how the engineering technician and technologist professions impact society.
This year 13 teams from nine colleges – Centennial, Conestoga, George Brown, Humber, Loyalist, Niagara, Seneca, Sheridan, St. Lawrence – along with the support of faculty, volunteers and the OACETT chapter in their region put on 18 outstanding, outreach events during the month of March.
Check out the NEM website for more information. Watch the Centennial College National Engineering Month video for a glimpse Centennial's NEM Challenge event.