QUESTIONS
P.O. Box 631 Station A
Toronto, ON, M1K 5E9
Centennial rises to seventh in Canada for applied research value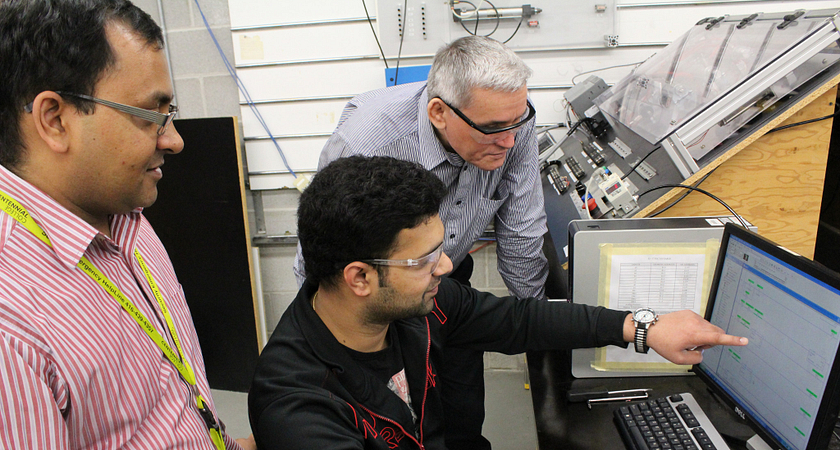 Centennial College continues to enhance its applied research portfolio with a 10 per cent rise in research income for a total of $7,003,000 in 2017, a significant increase that places the Toronto college seventh in Canada, according to Research Infosource's annual ranking of Canada's Top 50 Research Colleges. Centennial was ranked eighth nationally last year and ninth in 2015.
The Top 50 survey demonstrates that public colleges are making inroads in applied research activity, often in partnership with commercial enterprises looking for research assistance to bring new products and services to market. Together, the country's leading colleges garnered a combined research income of $197.9 million in 2017, which is relatively unchanged compared to the previous year, according to Research Infosource Inc.
"We want to grow these experiential learning opportunities, given the evidence that engaging students in research and innovation enhances their employability and satisfaction with their college experience," says Dr. Deepak Gupta, Executive Director of Applied Research, Innovation and Entrepreneurship Services at Centennial.
"In a recent study, we found that students with paid research and innovation experience were more likely to be employed in a job related to their program and hired sooner after graduation. And they are paid on average $5,800 more when hired full-time." Dr. Gupta also notes that research experience results in students recommending their programs more often to others, and expressing higher satisfaction with their educational experience.
"It is exciting that we continue to be a top-three college in the country for students employed in research and innovation activities," adds Dr. Gupta. Centennial is now ranked second in terms of the number of college students employed and paid to conduct applied research. The college had 274 students involved in applied research in 2017.
Being engaged in real-world research work allows students to gain a comprehensive understanding of how commercial enterprises develop their ideas from back-of-the-napkin sketches into working prototypes and, eventually, innovative products that find a receptive audience in the marketplace.
Canada's Top 50 research colleges reported a total of 2,309 research partnerships with external organizations involving 3,173 faculty, researchers and technicians. Research funds received from industry sources rose to $42.8 million, up from $41.3 million in the prior year.