QUESTIONS
P.O. Box 631 Station A
Toronto, ON, M1K 5E9
Centennial's food security initiatives help local residents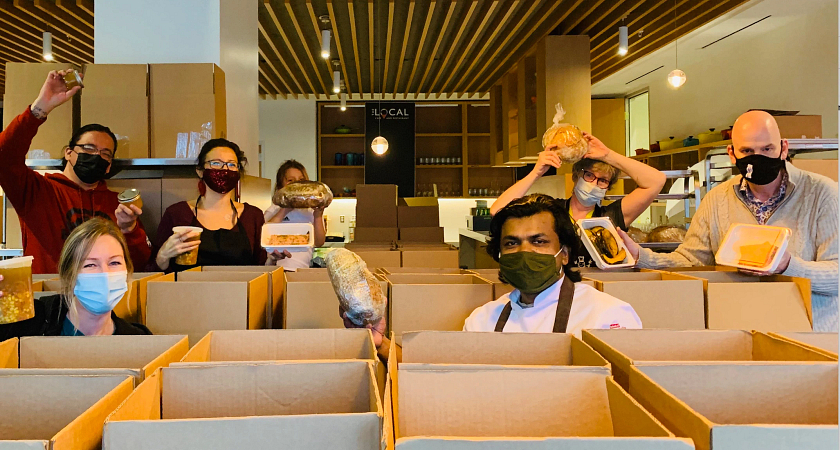 In response to the economic upheaval caused by COVID-19, Centennial College quickly mobilized its resources to help the many individuals and families in the local community struggling with food insecurity since the pandemic was declared in March 2020.
Early in the pandemic, Centennial's School of Hospitality, Tourism and Culinary Arts (SHTCA) began working with Second Harvest to distribute essential food supplies and provide House of Neighbours' volunteers with space to pack remaining foodstuffs from The Local Café and Restaurant at Progress Campus, and distribute the baskets to Scarborough's families and students in need. The College also reached out to food supply partners, including Aramark and Flanagan Foodservice, to facilitate the delivery of donations directly to local food banks.
As a practical resource, Centennial College posted a Food Options and Resources Map that helps families identify food and housing supports in the surrounding community. The College remains committed to further supporting our neighbourhoods in recent months. Check out the food security initiatives Centennial has undertaken since the pandemic began.
House of Neighbours
Our partnership with the local charity House of Neighbours (HoN) and its founder, Mohammed Mohyedin, continues with volunteers working out of our Culinary Arts Centre kitchens to pack food baskets for Scarborough families in the spring, summer and fall. This initiative is supported by key College personnel from the Student Success Portfolio (Place of Reconciliation for All Our Relations), Academic divisions and our Facilities department to provide support to Mohammed and the organization.
The initial outreach in April provided significant food supplies to 50 families, with 200 families benefitting by the end of June. In December, HoN volunteers working in the Event Centre's kitchen packing boxes that provided more than 200 families with pantry staples, fresh meat and vegetables. Our work with HoN has led to new community partnerships, such as with Eastview Public School, and saw food distributed within various urban Indigenous communities, including some living in Gabriel Dumont Housing, as an explicit priority of the initiative.
Indigenous Culinary of Associated Nations (ICAN)
ICAN Board Chair and SHTCA instructor, Chef Joseph Shawana, approached the School with an opportunity to take part in a holiday food campaign supporting Indigenous people in need. Over five days in December, volunteers worked in the School's lab kitchens preparing and packaging 200 food boxes containing enough food to feed a family of four to six people, providing an estimated 1,200 meals in total. Boxes contained sweet potato and bean soup, roasted acorn squash with maple and sumac, fried wild rice with forest mushrooms, three-sisters salad with apple cider vinaigrette, herb-roasted Ontario rainbow trout, freshly baked rye sourdough bread and locally harvested honey.
St. Stephen's Church Food Bank
Years ago, after the United Way recognized the Scarborough church's catchment area as having the lowest income in the province, St. Stephen's began a food bank in partnership with the Daily Food Bank. This year the Church food bank received 30 frozen turkeys 11 days before Christmas. With most clients having only tiny apartment freezers, St. Stephen's needed freezer space quickly. They reached out to Centennial for help, and soon after the frozen turkeys were delivered and stored in Aramark's freezers at Progress Campus for one week prior to distribution. All's well that ends well!
CCSAI Food Bank Curbside Pick-Up
The Centennial College Student Association's Food Bank has begun offering curbside pick-up of pre-packaged food hampers as of January 26 in conjunction with the start of the Winter 2021 academic semester. The CCSAI entered into a partnership with the Daily Bread Food Bank to facilitate the opening and ongoing operation of a food bank at the Progress Campus, open to the College community. The School of Hospitality, Tourism and Culinary Arts reached out to provide contributions to the food bank, and donations have also been made by Paladin Security. The pre-packaged food hampers are intended to meet an individual's meal needs for two to three days.
Centennial College is ensuring that our comprehensive COVID-19 safety procedures are followed by all staff and volunteers as they work to address food insecurity during the pandemic.