QUESTIONS
P.O. Box 631 Station A
Toronto, ON, M1K 5E9
Centennial's Sports Journalism students cover NACAC track & field meet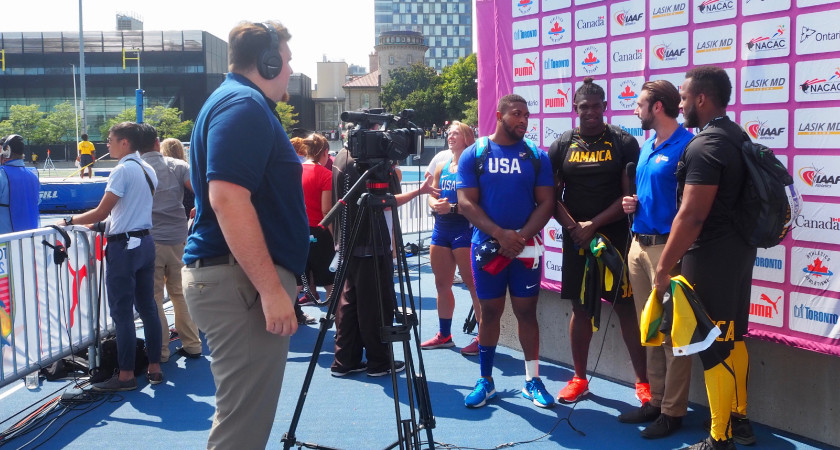 A team of Centennial College Sports Journalism students lent their multimedia talents to cover the NACAC 2018 international track and field meet at Toronto's Varsity Stadium from August 10 to 12.
NACAC 2018 brought together world-class athletes from 28 countries across North America, the Caribbean and Central America in a major event that participants take as an opportunity to size up rivals in advance of the 2020 Olympic summer games in Tokyo.
Podium highlights from the three-day meet include:
The men's 4x100m relay running team earned a gold medal for Canada, with Bismark Boateng, Jerome Blake, Mobolade Ajomale and Aaron Brown powering past the Barbados team in an incredibly tight race.
In women's 200m running action, Canada's Crystal Emmanuel fought hard for a 22.67 time, good enough for second place, only three hundredths of a second behind Jamaica's Shericka Jackson.
Canadians Tim Nedow won silver in the men's shot put with a personal best 12.02 metres, while Jillian Weir picked up a silver medal in the women's hammer throw.
Kate Van Buskirk won bronze in the 5,000m run, and distance runner Justyn Knight also collected a bronze medal in the men's 5000m final.
At the conclusion of the meet Canada had collected 21 medals (three gold, eight silver, and 10 bronze) to finish third overall in the standings behind the United States (61 medals) and Jamaica (22).
Centennial's School of Media, Communications, Arts and Design dispatched 23 students to cover the event with three broadcast programs, plus social media and stories for TorontoObserver.ca. The students performed every role from producers to reporters, on-air talent, and technical editing and support.
Watch their NACAC 2018 recap broadcast here for all the highlights.
"Our program has dedicated itself to experiential learning since it began 10 years ago," says coordinator Malcolm Kelly, who founded the program and has run it since 2009. "Putting students into a situation where they cover a real event speeds up the learning process and increases their confidence."
Malcolm takes the pledge to heart. Centennial's students have reported from the 2016 Paralympics in Rio de Janeiro, the 2017 North American Indigenous Games and 2015 Pan Am Games in Toronto, and baseball spring training in Florida.
Debbi Wilkes, herself an Olympic medalist and a 40-year journalist, heads up the NACAC coverage as the program's summer coordinator. Bob Torrens, former Sportsnet and Fight Network producer, handles the broadcast instructing.
"It's inspiring to watch as our students discover and develop all the skills it takes to compete in today's world of sport journalism," says Wilkes. "And for them to have the opportunity to report on top-notch events and international athletes makes the experience that much richer!"
Centennial's unique post-graduate program is an intense year of study that immerses students in fast-paced sports media. The program attracts some of the best sports media practitioners to deliver courses and lectures at the college's Story Arts Centre in Toronto.
Check out the student-produced NACAC pre-event shows: