QUESTIONS
P.O. Box 631 Station A
Toronto, ON, M1K 5E9
Centennial's Sports Journalism students dive into the Pan Am Games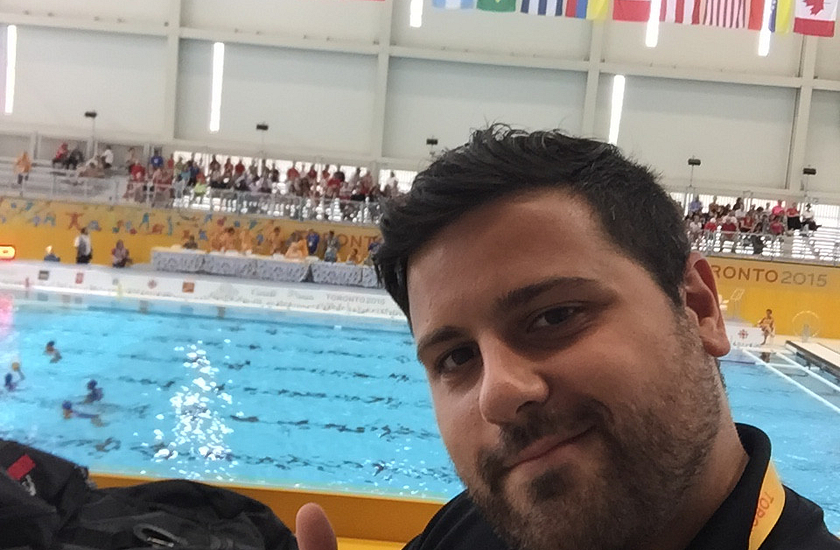 Centennial College Sports Journalism student Joe Narsa at the Pan Am Games Water Polo event.
With Toronto hosting the Pan Am Games this summer, Malcolm Kelly had an experiential learning opportunity land right on his doorstep.
As the founder, program coordinator and a professor of Centennial's Sports Journalism postgraduate program, Kelly enjoys seeing his students immersed in big sports events.
"Students receive strong training in the classroom, but if you only stay in the classroom, you don't really pick up the skills and confidence you'll acquire in the field," he says.
That's why his students spend a good part of their one-year program chasing down sports stories at events both close to home and far away – wherever the spirit of competition brings athletes together.
For the Pan Am Games, Kelly split his program in half, sending 15 students to work at Post Media/Sun Media to generate social media stories and traditional print/web stories about the myriad competitions being hosted in and around Toronto. The other half went on to CBC Sports – the official broadcaster of the Games – to work as social media reporters and writers.
"CBCSports.ca has brought our grad students in as digital interns at the Games where they are using Twitter, Instagram and, for the first time, Periscope," Kelly says.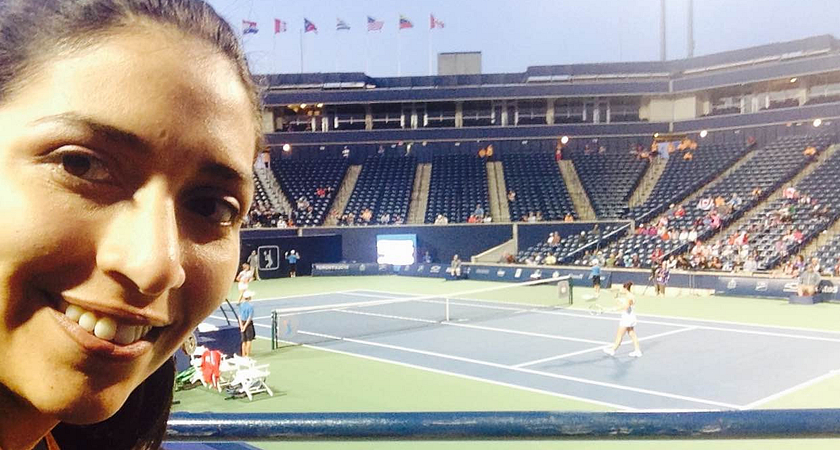 Centennial College Sports Journalism student Pamela Kiss at the Pan Am Games Tennis event.
Periscope is the popular live-streaming video app that links with Twitter to give users a unique perspective on events. It's rapidly becoming a useful tool in journalism, as the CBC is discovering.
Kelly himself is a long-time CBCSports.ca freelance journalist, in addition to his teaching responsibilities at Centennial. His involvement in the industry allows him to seek out opportunities for his students across all media platforms, with spectacular results.
Centennial's students can look forward to covering baseball spring training in Florida, and assignments at the National Swimming Championships and the para swim championships, among many other opportunities. In 2012, CTV engaged the entire program to assist with home-based coverage of the Summer Olympics.
"Because ours is an intense, one-year postgraduate program in sports journalism, we draw mature students with college or university diplomas who are keen to hone their skills in this specialty," says Kelly. "With a median age of around 25, our class is already at the next level, seeking that big gain in confidence that comes with working with a major news organization."
Keep your eye out for ongoing coverage of the Pan Am and ParaPan Am Games this summer – some of which will be gathered, written and analyzed by Centennial's Sports Journalism students. As a résumé builder, it doesn't get much better than this.