QUESTIONS
P.O. Box 631 Station A
Toronto, ON, M1K 5E9
Centennial Stars: Bahar Nasirzadeh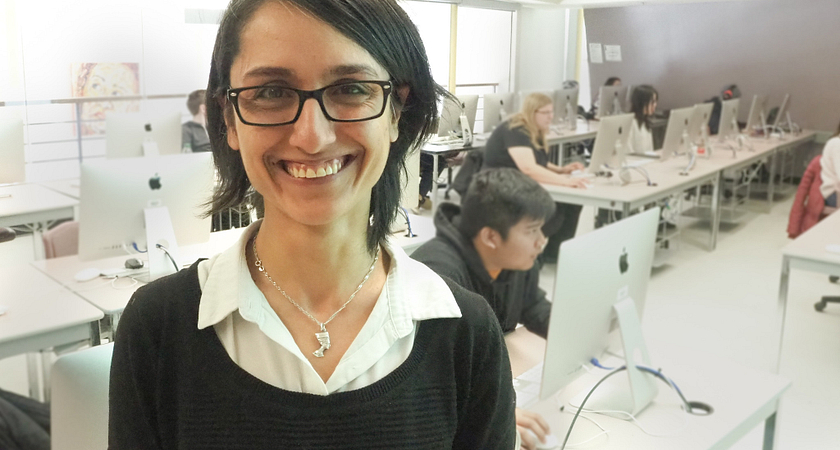 At #CentennialStars, we recognize leaders, legends and unsung heroes of the college. Anyone, be they students, faculty or staff can be a Centennial Star, as long as they've done extraordinary things or gone above and beyond the call of duty.
When Bahar Nasirzadeh earned her diploma in graphic design from Centennial back in 2007, she had no idea that, years later, she would come full circle and return to the college as an instructor. Not only does she teach Digital Imaging and Art and Design Studio at Story Arts Centre, but she has earned the admiration and respect of her students. In fact, it was one of her former students who nominated Bahar as a Centennial Star.
Bahar is known among her students as a teacher who goes above and beyond in her desire to create the very best learning environment. She is passionate about teaching and finds the experience very rewarding, even if it's challenging at times. Her dedication to her students is well-known. She stays in touch with many of her graduating students, and offers advice and support as they make their way through their careers. In fact, when we spoke for this blog post, she was in the middle of writing a reference letter for a former student.
"My teaching philosophy is quite simple," Bahar said. "I consider my students' success to be my success."
Simple and powerful. But there's more to Bahar Nasirzadeh than a brilliant and dedicated teacher. She is also very close to earning her PhD in York University's Communications and Culture program. Clearly, she has a passion for learning as well as teaching.
After graduating from Centennial but before coming back to the college to teach, Bahar worked in the private sector as a graphic designer here in Toronto and in Ottawa, including a stint in the advertising world. But then came an opportunity to teach at her alma mater.
"Nothing prepares you for the teaching experience except doing it," Bahar commented. "I learned that teaching is not just about the course content. It's also about knowing your students as a group and as individuals."
Bahar also takes great pride in knowing that her work with her students does not just benefit our city, province and country, but often other nations as well. She has taught many international students who, after graduating, return to their home countries, support their families and contribute to the local economy. It's a win-win.
So here's to Bahar Nasirzadeh, an extraordinary teacher who puts her students first. She is a genuine Centennial Star.
Do you know someone who deserves to be a Centennial Star? Nominate a student, faculty member, or college employee here.