QUESTIONS
P.O. Box 631 Station A
Toronto, ON, M1K 5E9
Centennial Stars: Emily Joe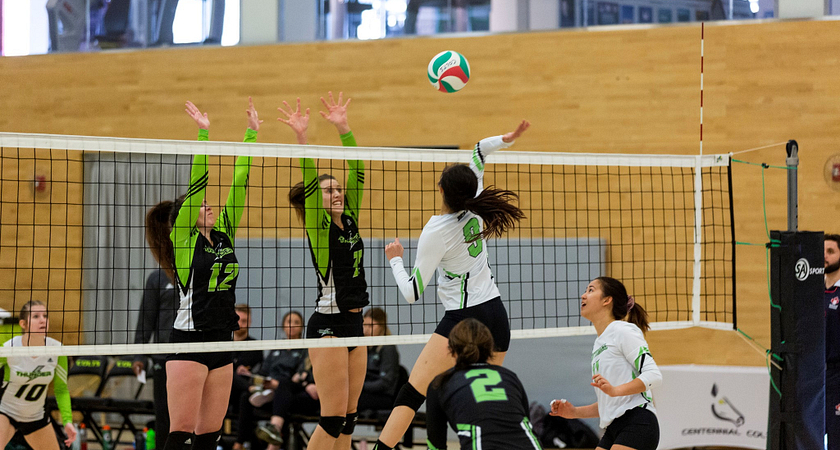 At #CentennialStars, we recognize leaders, legends and unsung heroes of the college. Anyone, be they, students, faculty or staff can be a Centennial Star, as long as they've done extraordinary things or gone above and beyond the call of duty.
She's a volleyball star, a leader among her teammates, and an academic high-achiever. Emily Joe does it all. Now she can add Centennial Star to her long list of accomplishments.
Emily is graduating this spring in Centennial's Music Industry Arts and Performance program and she hopes the piano will play an important role in her career. When she arrived at Centennial and walked on to the volleyball court, she knew she was in the right place. She knew she was home. Her time with the volleyball team—practicing with her teammates, winning and sometimes losing together—was a highlight of her Centennial experience.
And her coach, Everest Fabro-Valdez, sings her praises.
"Emily is the Captain of the Women's Volleyball team. She has been a tremendous asset to our team who we can rely on to get us out of sticky situations on the court, and who always gives 110%. Her dedication and hard work with the team the past three years has helped grow the program and helped put Centennial on the map in the volleyball world."
But Emily also supported the Athletic department by working as a camp counsellor and volleyball coach in the 2017 Colts summer camp, and as a work-study employee at the Story Arts Fitness Centre for the past three years. She has helped out at orientations and talked to new students about the Athletic Department and varsity sports. She leads by example and always gives her best effort on the court. The new players see her intensity and her skill level and want to match it during practices and games. That's what leadership is all about.
Emily takes it all in stride and keeps a balanced perspective.
"I just try to bring energy to the court. If you're low on energy, there's no way you're going to win. But if your energy is high, even if you don't win, you have fun."
But Emily is a star off the court as well. Her GPA for the Fall semester of 2018 was 4.1. She clearly has excellent time management skills when balancing varsity volleyball games, practices, schoolwork, a job in the Fitness Centre, and also family time. According to her coach, while completing her last year in her academic program, she played her best season in three years leading the Colts in multiple categories and also serving as captain.
When asked about her Centennial experience, Emily simply said:
"It's been amazing, truly amazing. Volleyball was where I belonged."
Emily Joe is a Centennial Star.