QUESTIONS
P.O. Box 631 Station A
Toronto, ON, M1K 5E9
Centennial student earns top-five finish in national sales competition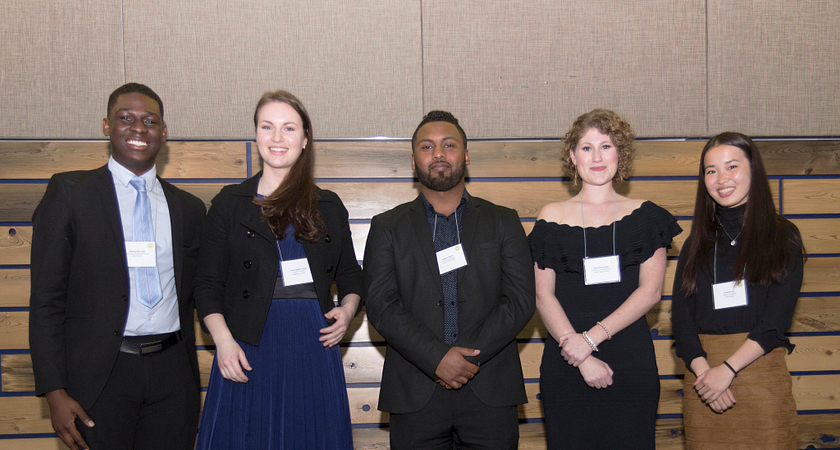 Kailash Nehru in the centre
One thing you should know about Kailash Nehru is that he oozes confidence, and it's evident from the moment you engage with him in conversation.
"I studied arts management at the University of Toronto, with a minor in philosophy. And I had six years of acting lessons," he says by way of explanation. "I consider myself a performer."
Acting skills have definitely helped him make a favourable impression as a professional sales representative, which is a common career destination of those who study business marketing, as Nehru is doing at Centennial College.
Nehru has always been a go-getter. He worked in retail sales and the hospitality industry before coming to Centennial; he also finds time to write and produce hip-hop music. Nehru offers an example of how people can motivate themselves to do more in the limited number of hours each day.
"I learned the positive effects of making your bed every morning. By accomplishing that first task of the day, it provides the momentum to do another task and another. Making your bed also reinforces the fact that little things in life matter," he says of the popular life hack.
Nehru applies that same energy to accomplish goals set out in his three-year Business Administration – Marketing program, such as preparing a successful sales pitch for his professional selling course.
"I had to sell the advantages of tap water over bottled water. I knew that the environmental benefits of tap water were obvious, so I took a different approach. I talked about the dramatically cheaper cost of tap water, the fact that it literally falls from the sky, and that it is infused with fluoride to keep our teeth healthy," he says.
Nehru won the pitch and caught the attention of his professor, David Tooke, who encouraged him to use the assignment as his formal entry submission into the Great Canadian Sales Competition.
The annual contest introduces thousands of college and university students to professional selling as a potential career path. Participants develop real-world business and sales skills, learn about some of the most successful companies, and many meet their first employer through the competition.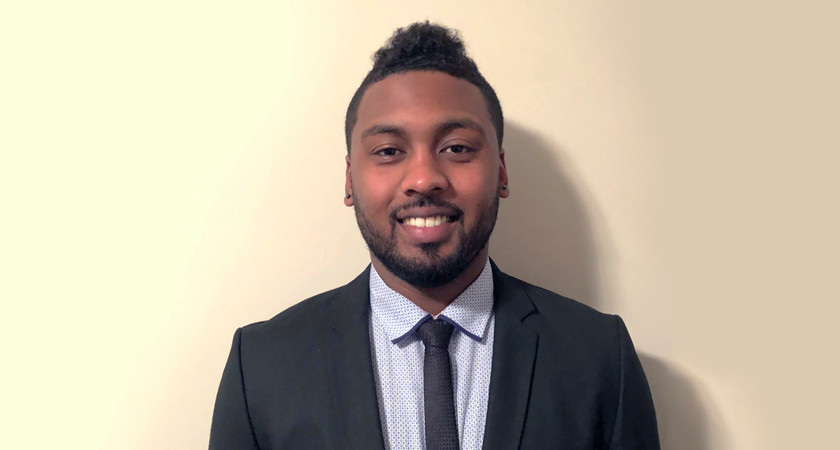 Nehru became one of 3,761 applicants to the national competition this year, which were quickly culled to 800 worthy submissions, of which his was one. In the second stage of the contest, he was introduced to sponsor Grand & Toy, Canada's long-established office supply firm.
Nehru had to develop a business pitch on behalf of the company to "Chris," a fictional gym owner who was caught up in the bureaucracy of ordering supplies from multiple firms and trying to manage the paperwork and expenses. He had to come up with a business solution for Chris.
"My first step was to try to understand the audience. Chris is a young business manager who has a strong interest in customer service, efficiency, cost control and convenience. I know that a 'one-stop shop' concept would appeal to him by having a service that could help him manage the account easily, as well as offer next-day shipping," says Nehru.
His instincts were correct. Nehru managed to say all the correct things in his free-flowing presentation, which was not scripted. It got him through the semi-finals to become one of 25 finalists from across Canada invited to the Great Canadian Sales Competition.
"Grand & Toy selected me to be their representative at the nationals. I had to develop a 10-minute pitch tailored to sell business-to-business (B2B) solutions and a value proposition to meet real business challenges," he explains.
With a family tree that stems back to strong-willed politicians in Jamaica and India – he shares lineage with Jawaharlal Nehru, the first prime minister of India – it's easy to spot his confidence and flair for leadership. They are qualities that his coaches at Grand & Toy had picked up on almost immediately.
"Grand & Toy really wanted me to win," he says. "The national director of sales got involved in my coaching, which was amazing. The team raised real-life client objections to ensure I was ready to deal with any challenges presented to me."
In addition to the professionals at the company, Nehru had strong support from professor Tooke, who gave him plenty of extra attention with case studies and other examples to pore over ahead of the national finals.
The Great Canadian Sales Competition was held on May 3 at Google's Canadian headquarters in Toronto. At the gala, Kailash Nehru was announced as one of the top five finishers (judges determine the first-place winner, but do not rank the remaining top five in any order). Nehru's strong finish was a testament to his professionalism and acumen.
Nehru had bested more than 3,700 competitors from across Canada and he was the only college student to share the stage with the country's best university students. Thanks to his efforts, and that of his professors and mentors at Grand & Toy, Nehru flew the Centennial College flag on a prominent national stage.
A sincere thank-you to the GCSC for fostering an appreciation and respect for the B2B sales profession among young Canadians. With connections to some of the best B2B sales employers in Canada, the GCSC continues to support Centennial's vision of transforming lives and communities through learning.