QUESTIONS
P.O. Box 631 Station A
Toronto, ON, M1K 5E9
Centennial student team earns second-place win in cybersecurity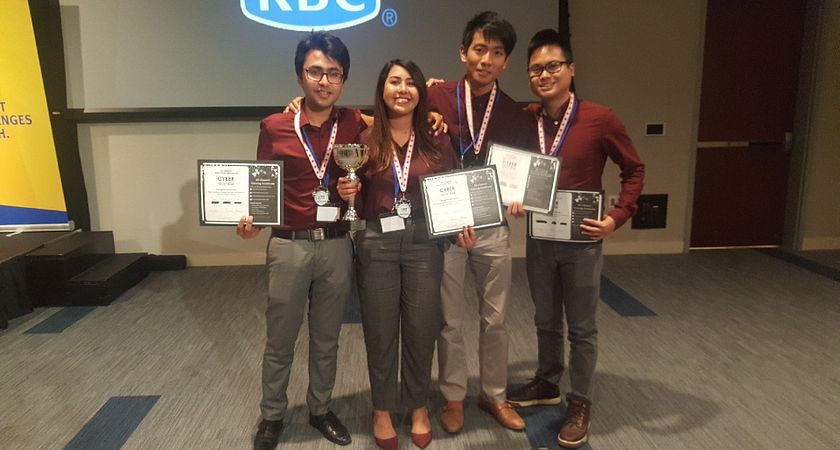 The "CyberCents" student team representing Centennial College's Bachelor of Information Technology (Computer and Communications Networks) degree program earned a solid second-place finish at the People in Cyber conference and student competition sponsored by the Royal Bank (RBC) on October 20 in Toronto.
The competition required the student teams to develop a business-oriented online security solution and present it to a panel of industry judges. Cybersecurity is the protection of internet-connected computer systems, software and data from unauthorized intrusions and privacy breaches.
The Centennial CyberCents team consisted of students Asma Anika, Adrian Castillo, Jacob Hoang and Yashkumar Mashruwala. The foursome took home a trophy, a cash prize of $1,500 and each member received EC-Council Certified Ethical Hacker Training Voucher for one year (certification test, labs, textbook) valued at more than $1,000.
Winning first-place overall was "Team X" from York University, while the "BotSavvy" team from Lambton College took third-place honours. The Centennial students gave their solution proposal the unique title of Cyber Lasagna.
"Our students picked the name Cyber Lasagna since layering is one of the fundamental principles of defense against cyber attacks," explains professor Marjan Zandi. "The layering approach uses multiple overlapping protection techniques and approaches."
"Our students provided their solution to the question of 'What is the weakest link in Cybersecurity?' considering the layering approach. They told this story very beautifully: 'When you eat lasagna, eating each layer separately might not taste well, but when you eat all the layers together it's a huge difference!'"
The School of Engineering Technology and Applied Science (SETAS) at Centennial is the only one in Ontario to offer a four-year undergraduate degree in computer and communications networks. The event was sponsored by RBC, LoyaltyOne, Rogers Communications, PwC Canada, Paytm Labs, KPMG Canada, Balbix, Intercast Staffing, and EC-Council.
Congratulations to our amazing students and Centennial professors Dr. Marjan Zandi and Dr. Mizan Rahman, who supported them throughout the process.