QUESTIONS
P.O. Box 631 Station A
Toronto, ON, M1K 5E9
Centennial students address world hunger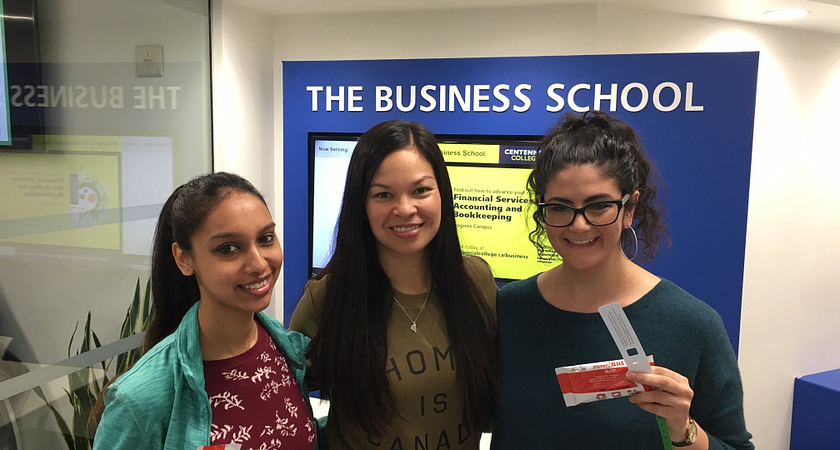 Students of Centennial College's International Development graduate certificate program worked to collect funds to help stop children from dying of hunger, raising $8,500 this fall to deliver a nutrient-rich food product to some of the poorest regions in the world.
Despite constructive action by developed nations to address global hunger between 1990 and 2015 – when the proportion of undernourished people fell by half – the number of hungry is rising again due to armed conflicts and very real climate change that has produced more droughts and floods. Some 815 million people, or 11 percent of the world's population, went hungry in 2016 according to UN data.
Recognizing that hunger is especially acute for children, Centennial students partnered with Action Against Hunger Canada, a France-based global humanitarian organization taking decisive action to address hunger by taking small steps to bring about progress on malnutrition. On the ground in more than 50 countries, the non-profit reaches 20 million people annually.
Through the agency, Centennial students chose to provide children in Guatemala, Bangladesh and South Sudan with therapeutic food, known as "Plumpy Nuts," that acts as a meal replacement to help children facing malnutrition return to healthy nutrition levels. It takes 45 days (and $45) to get one child back on track when they consume the calorie-rich paste three times a day.
Professor Natalie Chinsam, who teaches international business and development, had her class break into groups to manage fundraising initiatives for Action Against Hunger. The students appealed to other students, knowing that they could not give much money, the small donations bolstered by high participation promoted through social media and direct appeals on campus. Students also set up a related GoFundMe campaign online.
"It was a good experience for us. We learned how to connect with people and tell the story about the need for help," says Sabrina Shaheen, who had previously studied English and history in university. Even if a donation was not forthcoming, the students got a sense of accomplishment for their efforts.
"We taught people to be aware of the issue," says Prachi Shah, who has a degree in social work. "It was amazing to see students helping each other with the fundraising activity."
The one-year International Development program is intended for individuals interested in creating innovative solutions to tackle global development challenges. It emphasizes a "human rights-based approach" to development through which students examine the multiple dimensions of poverty, universal education, environmental protection, gender mainstreaming and corporate social responsibility.