QUESTIONS
P.O. Box 631 Station A
Toronto, ON, M1K 5E9
Centennial students bring B-ball joy to Jamaican town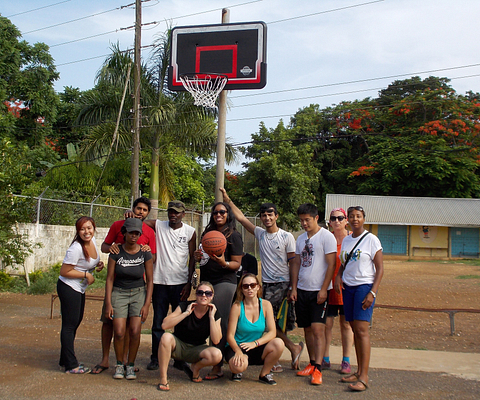 One of the amazing aspects of studying at Centennial College is the opportunity for students to try a Global Citizenship & Equity Learning Experience (GCELE) as a way to participate in applied social-justice learning by travelling overseas to acquire leadership skills and create some positive development in a remote and often impoverished rural community. GCELE service-learning projects prepare students to be agents of positive social change in our increasingly interconnected global society.
Last year, a group of Centennial students travelled to Jamaica to participate in a GCELE chiefly to help construct a new addition to the Mount Airy All Ages School. Our students also had the opportunity to visit the Negril All Ages School and the literacy camp operated by the agency Power To Be. It was there that our students noticed that Negril's kids had only a rusty hoop on a pole to aim basketballs at; there was no net and no backboard. It didn't look like much fun.
The Centennial students hatched a plan to get a proper backboard and net to Negril by the following year. They donated the funds to do so and passed the baton along to the students preparing for the 2014 Jamaica GCELE excursion. The group managed to take advantage of WestJet's Humanitarian Baggage allowance to carry additional baggage intended for school supplies. Although the backboard was not technically considered school supplies and did not comply with the size regulations for extra baggage, WestJet did allow our students to take this extra piece of baggage at no cost (let's hear it for WestJet!).
The students arrived in Jamaica with their precious cargo this summer and immediately set about installing the new basketball gear. The locals were thrilled with the net and a lot of breakout games of basketball ensued. Our Canadians were heroes. We'd be remiss if we didn't name everyone responsible for this wonderful initiative. From the 2013 GCELE group: students Viriendra Rodney Aodan, Junke Wang, Adrian Castro, Tacia Bogaert, Olive Alleyne, Nimal Nadarajah, Akeem Raphael, Kenny Cheng and Centennial staffers John Oughton, Karen Naidoo and Andrea Muir. From the 2014 GCELE group: students Dhruv Lad, Heather Lodge, Shannika Pitter, Merav Seror, Adekunle Enigbokan, Karwan Ali, Jessica Agyem, Ana Miranda, Charlotte Wiebe, Zhengyao (Ryan) Zhu and staffers Patricia Lee, Andrea Muir and TJ Taylor.