QUESTIONS
P.O. Box 631 Station A
Toronto, ON, M1K 5E9
Centennial Students Bring Home 20 Skills Ontario Medals and More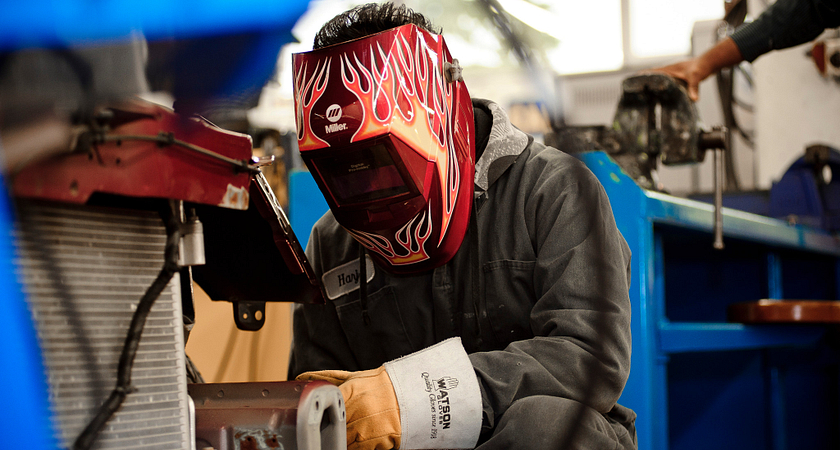 Centennial College has distinguished itself during the 2021 Skills Ontario Competition in early May, where our students took home six gold, eight silver and six bronze for a total of 20 medals! Four of our gold medal finishers will advance to the national competition next month.
Skills Ontario engages students in competitions to demonstrate experiential learning while showcasing career opportunities in skilled trades and technologies. The annual competition had to adapt to the pandemic and permit individual schools and colleges to host the skills contests, with judging taking place by video conference. Students from Centennial's schools of Transportation (SoT), Engineering Technology and Applied Science (SETAS), and Communications, Media, Arts and Design (SCMAD) entered 19 skills contests this year.
In addition to the heavy medal count, Centennial won the College Award of Distinction for the third consecutive time, having collected it in 2018, 2019 and now 2021 (Skills Ontario did not take place in 2020). The College Award of Distinction acknowledges Centennial has demonstrated commitment to the Skills Ontario initiative, made significant investments to the skilled trades and technologies, and strived for excellence in the classroom, shop and competition site.
Centennial also received the Gene Haas Foundation Manufacturing Award, with $5,500 being awarded to "the college that shows the greatest dedication to promoting the manufacturing sector, based on results at the Skills Ontario competition." The funds will go toward scholarships for students in our manufacturing programs.
Please join us in congratulating all of our Centennial College competitors, the medal winners, and the many faculty and staff who worked in the background to get everyone ready for competition. Four of the six gold medal winners (there are no contests in Aircraft Maintenance and Computer Aided Manufacturing) will proceed to the Skills Canada Virtual National Competition taking place in June.
| Skills Program | Student | Win |
| --- | --- | --- |
| Aircraft Maintenance | Ryan O'Neill | |
| Aircraft Maintenance | Paul Yu | Gold |
| Aircraft Maintenance | Alyssa Briggs | Silver |
| Airtcraft Maintenance | Craig Rosensweig | Bronze |
| Architectural Technology and Design | Jella Datuin | |
| Architectural Technology and Design | Pauline Salas | |
| Auto Service Technology | Noah Miura | |
| Auto Service Technology | Colt Yao | Gold |
| Auto Service Technology | Joey Furtado | Bronze |
| Auto Service Technology | Thomas Dicks | Silver |
| Auto Service Technology | Thomas Dicks | Silver |
| Automation and Control | Lindsey Rupert | Silver |
| Automation and Control | Natthew Natividad | Gold |
| Automation and Control | Ryan Tieu | |
| CNC Machining | Dmytro Mustafin | |
| CNC Machining | Syed Abdullah Hussain | Bronze |
| CNC Machining | Kyle Pan | Silver |
| CNC Machining | Ayman Mohammed | |
| Coding | Hassaan Khalil | |
| Coding | Farzam Mohammadi | |
| Coding | Oleg Gorbunov | Bronze |
| Coding | Patrick Labelle | |
| Computer Aided Manufacturing | Brighton Leuchter | Silver |
| Computer Aided Manufacturing | Konstantinos Dimopoulos | Gold |
| Computer Aided Manufacturing | Daniel Duong | |
| Electronics | Oleh Oshchepkov | Bronze |
| Graphic Design | Yelekale Kitaw | |
| Heavy Equipment Service | Rorie McConney | Gold |
| Heavy Equipment Service | Hayden MacGregor | |
| Heavy Equipment Service | Hayden MacGregor | |
| IT Network Systems Administration | Pooja Venkatesh | Silver |
| IT Network Systems Administration | Hasan Patel | |
| IT Network Systems Administration | Jingyao Zhang | |
| IT Network Systems Administrations | Georgena Hayles | |
| Mechanical CAD | Daniil Mikhailov | |
| Mechanical CAD | Adrian Avendano | |
| Mechatronics (Team of 2) | Zhilei Pei /Abdul Qurbani | Bronze |
| Mechatronics (Team of 2) | Dane Mark Ilagan / Bronson Lalonde | |
| Photography | Elizabeth Smith | Silver |
| Photography | Samantha Wong | |
| Photography | Sophia Han | |
| Precision Machining | Jeffrey Wong | |
| Precision Machining | Jeffrey Wong | |
| Refrigeration | Ricky Truong | Gold |
| Refrigeration | Eric Boymans | Silver |