QUESTIONS
P.O. Box 631 Station A
Toronto, ON, M1K 5E9
Centennial students garner medals at Ontario Skills Competition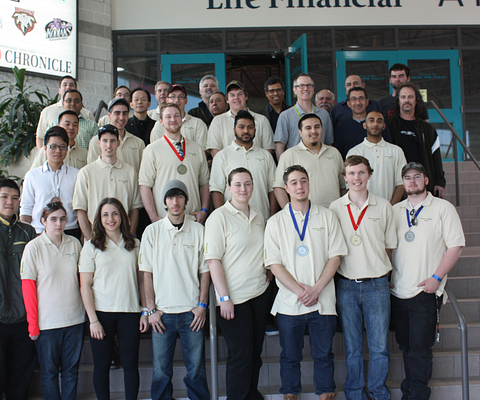 Centennial's Skills Ontario student team gathers in Waterloo after the medals presentation on May 6, backed up by their hard-working faculty from the Schools of Transportation, and Engineering Technology and Applied Science, shown in the top row.
Centennial College was well represented in the winners' circle at the 26th annual Ontario Technological Skills Competition, which drew more than 2,000 student competitors in 67 skilled trades and technologies contests, much to the delight of the large crowds that gathered at RIM Park in Waterloo, May 4 to 6.
Competitors sought gold, silver and bronze medals in a wide variety of hands-on skills contests, including such specialties as computer animation, culinary arts, carpentry, auto-body repair, masonry and aesthetics. Centennial's School of Transportation was a dominating force in the post-secondary automotive trades, and students from the college's School of Engineering Technology and Applied Science also did well.
Centennial competitors who ascended the Olympics-style podium included:

Sean Crawford - Gold in automotive service
Colin Bailey - Gold in collision repair
Brock Peel - Silver in heavy equipment
James Cook - Silver in automation and controls
James Rickard - Bronze in refrigeration
Jinming Dong - Bronze in electronics
"Seeing the commitment of our staff and the enthusiasm of our students makes me so proud to be part of the Centennial team," remarked Alan McClelland, Dean of the School of Transportation, who was on hand for the medals ceremony. "This competition is really about celebrating the excellence of all young people entering the trades, but I can't help but get excited when the students climb the podium."
Gold medal winners Sean Crawford and Colin Bailey qualify for the Skills Canada National Competition that will take place in Saskatoon at the end of May. Winners of the national contest move on to take on the best skilled tradespeople in the world in Sao Paulo, Brazil, in three months' time.