QUESTIONS
P.O. Box 631 Station A
Toronto, ON, M1K 5E9
Centennial students shine at the Skills Ontario Competition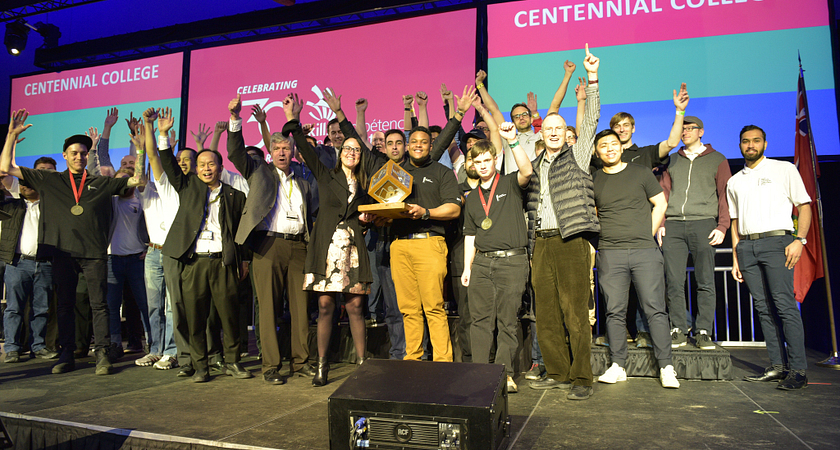 The 2019 Skills Ontario Competition that took place on May 6 and 7 at the Toronto Congress Centre provided an action-packed array of activities to engage young people while exploring career opportunities in trades and technologies.
Monday, May 6, saw more than 200 Grade 7 and 8 students from around the province participate in a workshop to learn about the viability of the transportation trades as a career choice. Centennial College faculty and technologists had the students working on vehicles supplied by Mazda, teaching them safe work practices while performing routine service tasks on the vehicles.
On Tuesday, May 7, the largest skills competition in the country took place with more than 2,000 secondary and post-secondary students from across Ontario competing in a broad range of skills categories, showcasing their talents in their respective trades.
Some 47 Centennial students recruited from the School of Transportation, the School of Hospitality, Tourism and Culinary Arts, the School of Community and Health Studies, and the School of Engineering Technology and Applied Science (SETAS) were put to the test in 26 distinct skills categories.
The hard work and preparation paid off handsomely, as our Centennial student competitors collected a total of 16 medals at the awards ceremony on Wednesday, May 8.
Our medal-winning students for 2019 are:
Gold Medal
Mark Angelo Capada – IT and Network Support
Peter Haslam – Truck and Coach Technician
Catherine Mathewson – Auto Painting
Thomas Phan – Auto Service Technology
Jake Seaward – Outdoor Powered Equipment
Silver Medal
Kevin Cheung – Automation and Control
Matthew Chin - Refrigeration
Gurdeep Dhaliwal – Auto Collision Repair
Nathan Fernandes – Heavy Equipment Service
Floyd Jones – Web Design and Development
Brighton Leuchter – Computer Aided Manufacturing
Frank Zhou – Coding
Bronze Medal
Brittany McGrattan – Baking
Megan Smyth – Aesthetics
Kevin Truong – IT and Network Support
Mitchell Wright – Refrigeration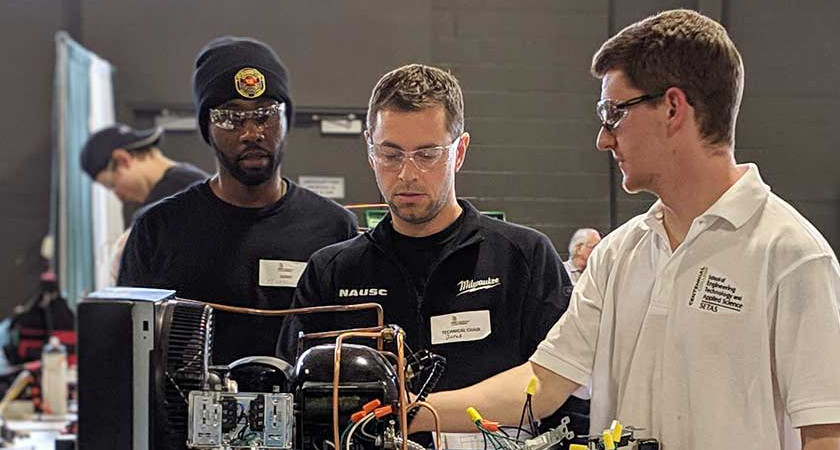 Mitchell Wright competing at Skills Ontario 2019
Our gold medalists are automatically eligible to represent Ontario at the Skills Canada National Competition on May 28-29 in Halifax, Nova Scotia – with the exception of the Truck/Coach winner, as there is no equivalent test at the national level.
In addition to the amazing number of medals earned by our students, Centennial College was also given the College of Distinction trophy for overall achievement at the event. This is the second consecutive year that Centennial has won the honour.
Our thanks to all of the Centennial students, program coordinators, faculty and support staff for their hard work and commitment in preparing for this showcase annual event!
Update from the Skills Canada National Competition in Halifax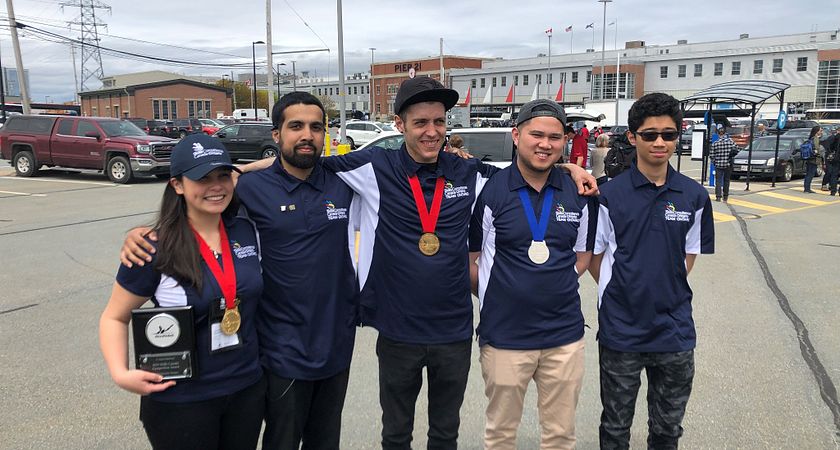 Team Centennial pictured at Halifax's historic Pier 21. From left: Catherine Mathewson, Gurdeep Dhaliwal, Jake Seaward, Thomas Phan and Mark Angelo Capada.
Team Centennial mounted a strong showing at the Skills Canada National Competition in Halifax on May 28 and 29, bringing home two gold and one silver medal! Catherine Mathewson collected a gold medal for her outstanding performance in the Car Painting category. Jake Seaward did the same in the Outdoor Powered Equipment category, which involves repairing motorcycles, snowmobiles, marine engines and other powersports equipment. Catherine and Jake are the best new technicians in Canada in their respective fields. Auto Service Technician student Thomas Phan earned a second-place silver medal for his demonstrated expertise in vehicle repair. Congratulations to our Team Centennial competitors for flying the Centennial College flag high at the Nationals!