QUESTIONS
P.O. Box 631 Station A
Toronto, ON, M1K 5E9
Centennial students sweep CPRS Toronto ACE awards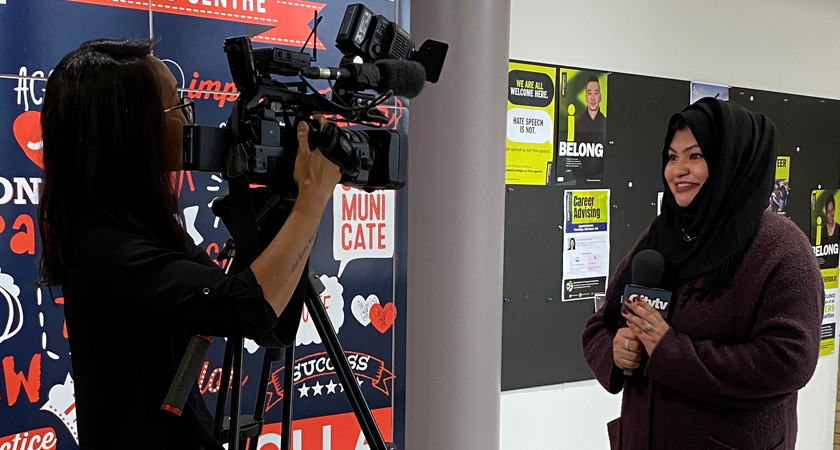 Centennial College Public Relations and Corporate Communications students swept the student awards category at the 2020 Achieving Communications Excellence (ACE) awards ceremony on July 27, an annual event that celebrates the best in public relations and communications. Industry judges selected students Mubashira Nusrat Farooqi, Devina Das, Jessica Richard, Arminder Singh and Gurveen Dang for their The GenWell Project: #facetofacefeb, a unique campaign to address loneliness.
The students in Centennial's post-graduate Public Relations program declared "Face-to-Face February" as a 29-day calendar challenge on social media encouraging people to engage in in-person interactions as a way to combat loneliness. At the end of each day, participants were prompted to post photos of themselves performing the daily challenge using the hashtag #facetofacefeb.
"The curated challenges are based on helping people develop a lasting habit by proactively connecting with others throughout the month," Mubashira explained. "We all spend far too much time on technology, but strategically we are using the medium via @GenWellProject accounts on Instagram and Twitter to reach our peers."
A cross-Canada survey of postsecondary institutions in 2019 found that nearly 70 per cent of students felt lonely throughout the school year. Interacting with people face-to-face is shown to provide positive mental and physical health benefits.
The other winning entry in the Student Award category named Centennial students Sarah El-Bakri, Kayla Nguyen, Andrea Logan, Lyndon Dizon and Anusha Bhardwaj for their CivicAction: For a Friend project. And for the second year running, one of our outstanding faculty was recognized with an ACE Award. Congratulations to Centennial College professor Paolo Zinatelli, who was named CPRS Toronto Educator of the Year!
The ACE Awards are organized by the Toronto Chapter of the Canadian Public Relations Society (CPRS) to recognize the skills, innovations and intelligence within the public relations and communications industry. Typically the awards ceremony sees hundreds of communication professionals gathered from across the Greater Toronto Area. This year the ACE Awards were announced online due to the pandemic. Winners can be found here.
"I would like to congratulate all of the winners! We saw over 100 entries this year; I was impressed by the creativity and results of the awards submissions," said Jenny Shin, President, CPRS Toronto Chapter. "Although we had to pivot to online this year, we were still able to celebrate the incredible level of talent within the industry." The ACE Awards recognize communications campaigns in various categories including events, media relations, digital media and student accomplishment.