QUESTIONS
P.O. Box 631 Station A
Toronto, ON, M1K 5E9
Centennial volunteers raise money for ALS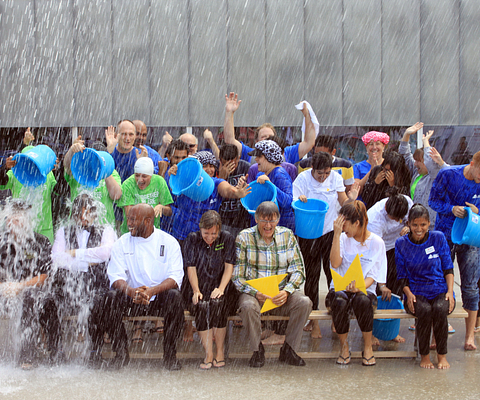 Twenty-eight Centennial College students, faculty and administrators braved a cold wind and chilly temperatures on September 11 to take part in the ALS Ice Bucket Challenge, raising $372 for amyotrophic lateral sclerosis (ALS) research.
The challenge involved seven special victims, including Chef Robert Rainford, who got the full ice bucket treatment, while the entire group of students and staff got sprayed by a water truck. The special delivery was arranged by the Centennial College Student Association (CCSAI).
CCSAI president Deepika Gangwani challenged the student associations of Seneca, Durham and George Brown colleges, as well as the Durham Enactus Club. The ALS Challenge was part of a fun day on campus for new and returning Centennial students.
ALS is a progressive neurodegenerative disease that affects nerve cells in the brain and the spinal cord. With voluntary muscle action progressively affected, patients in the later stages of the disease may become totally paralyzed. The Ice Bucket Challenge has raised the profile of the dreaded disease, as well as millions of dollars in research funds this year.